Your 2013 New Year's Resolution: Do Everything with Dolphin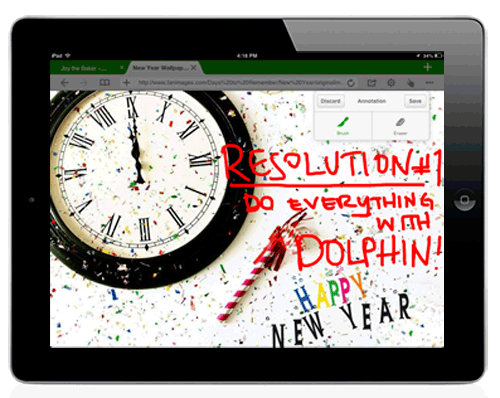 Happy New Year, Dolphin fans! We trust your holiday season went well and you're refreshed for a fun, exciting and fulfilling 2013. Speaking of exciting, we've got great news for all of you: new versions of Dolphin for Android, iPhone, and iPad, recharged and reinvigorated for the new year.
This is our most exciting release since we launched Dolphin Sonar that, as you know, lets you use voice commands to search through Dolphin. Good stuff.
The recent holiday season once again confirmed that smartphones and tablets are fast becoming the devices of choice for browsing and e-commerce. In its 2012 Holiday Benchmark Report, IBM found that 10 percent of all online shopping during the Thanksgiving holiday originated from iPads. Meanwhile, sales of the iPhone, iPad and iPad mini, among other popular devices, are all expected to be up . What's all this mean for us? Well, it means more people are using mobile browsers these days and doing more on them, and we not only need to keep up, but stay ahead.
Perfect timing for our latest updates, available now on the iTunes Store and Google Play stores. With this new release of Dolphin, we want to help simplify your mobile life by letting Dolphin do all the work, streamline how you share and connect and simplify how your data is synced across your desktop and mobile devices. It's all about easing your browsing and maintaining a consistent Dolphin experience no matter which device you're on.
How are we doing this? In three BIG ways:
1. One-tap Sharing
Tweet web pages, post them to Facebook, share them via email and even share with friends nearby through WiFi…all directly from Dolphin.
Facebook: Post any web pages and tag friends instantly. For iPad users, you can even annotate with a note or drawing.
Twitter: Tweet a web page, tag friends and annotate without having to leave your open browser tab.
Email: Send title, link and personal annotation of web page to any email.
WiFi Broadcast: Send your friends any web page instantly through a shared WiFi network.
2. Cross-device Sync
We doubt you have only one mobile device, which means you've got stuff in multiple locations. It also means you're probably eager for a consistent experience across your devices and want access to everything no matter you are on mobile or desktop. With our latest update, we're giving you the ability to do just that.
Use Chrome/Firefox/Safari extensions to Send to Device: Send tabs, images, phone numbers and directions from desktop to mobile. 
Here's how to send a webpage:
Sign into Dolphin Connect through extension
Sign into Dolphin Connect on desired mobile device in Dolphin settings
Click on Dolphin icon on your desktop browser URL bar
Choose the Dolphin connected device you want to send to
Click 'Send'
That't it!
Note: See all the ways to send directions, images and webpages with Send to Device with this video.
With Dolphin Connect you can sync:
Tabs

: See open tabs on your other Dolphin connected devices and desktop

History

: Review what you have visited across devices

Bookmarks

: Sync your bookmarks between all your devices or desktop (*For iOS users, Chrome/Firefox only)

Passwords

: Set a security code for your passwords and sync them across devices
* If you enabled Private Mode, you won't be able to sync History/Tabs/Passwords.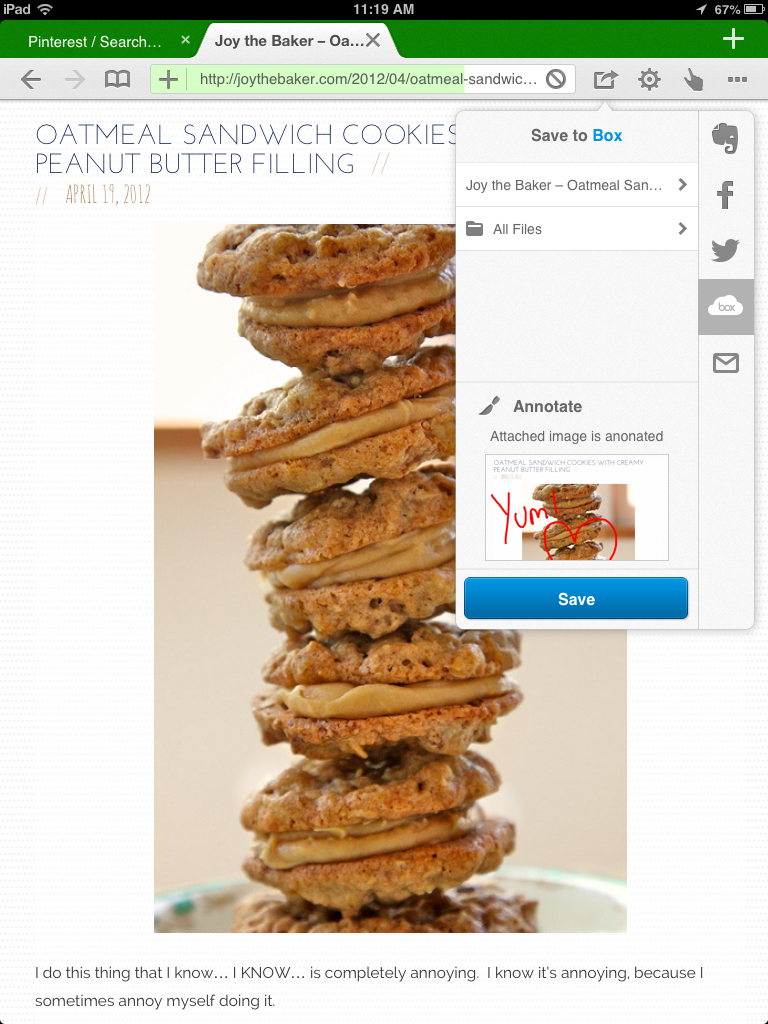 3. Dolphin Remembers so You Don't Have To
What do you do when, while browsing, you come across an article, photo or quote you absolutely love? Email it to yourself? Save it via Instapaper? Write it down on an actual piece of paper. All sufficient, but hardly efficient.
The third, and sexiest feature of our latest Dolpin allows you to grab any web content from Dolphin and save it directly to your Evernote (Beta) or Box account.
Download it now and try it out for yourself for
Android, iPhone, and iPad.
Hope you love all these features as much as we do. To find out how Dolphin can do even more for you, check out our FAQs or email the team at support@dolphin-browser.com.
Happy 2013!
Team Dolphin