Webzine for the Music Lovers
(Photo: One Thirty BPM)
To celebrate the end of another rockin' year of summer festivals, here is the Dolphin team's top 5 favorite music sites on Webzine!
Turntable Kitchen – The music mash-up done like never before, with food! More than just articles, this blog offers single serving music news and recipes as well as musical pairings like this weeks T.V. on the Radio's meatiest album Nine Types of Light and Kasey's Brothy Beef Short Ribs.
Spin –  Based right here in SF, Spin magazine brings you more than just amazing music reviews, articles and dates. Spin's Best of the Week updates give you best abridged version of what's hot this week. This week: Bjork's release a song from her new album Biophillia and the masters at Spin give us their top 10 best sets from Lollapalooza and must-see artists from Outsidelands.
Rolling Stone – Hardly a relic, Rolling Stone Magazine has maintained its clout as the word on music for over 44 years. Known for its iconic covers, this month Rolling Stones ends the 15 month long competition for the first ever cover of an unsigned band, the Sheepdogs. Check out Webzine to find out how they are handling the fame.
Jam Base –  Don't miss the upcoming family friendly Harvest Music Fest, foot-stomping Hardly Strictly Bluegrass festivals or fall tour dates from Devil Makes Three, Deerhoof and Smashing Pumpkins. This website brings you updates on concerts date and lineups, reviews, articles and new album releases.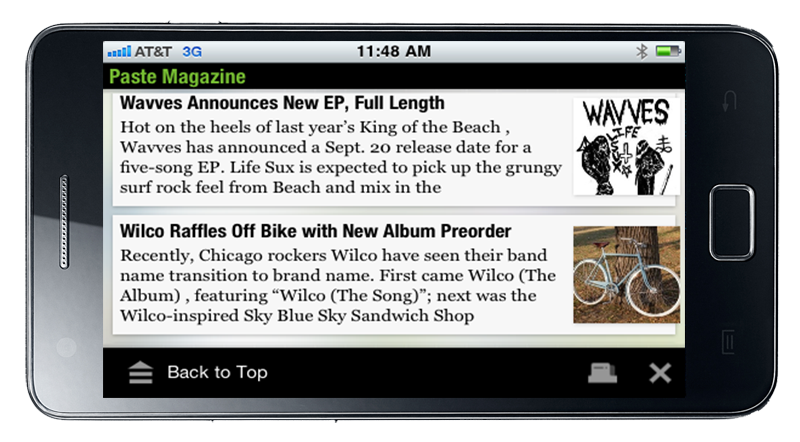 Paste Magazine – Music, film and culture, oh my! This magazine patrols the gray area where music meets everything else. This week Wilco raffles off a custom sky blue fixie (bicycle) with preorder of their new album The Whole Love.
If you would like to check out these amazing Webzine channels on your Android, download Dolphin here.
Thanks!
The Dolphin Team