View Image & Force Close with Add-ons Issues are Fixed in Dolphin HD V4.5.1 Beta
Dear users, Dolphin HD v4.5.1 beta is here! In our late update of Dolphin Browser HD v4.5, we made many UI changes and fixed a number of bugs. Although in this new beta version, we still keep the UI of last version,  we never stop optimizing the performance of Dolphin HD. So the major change we have done in this beta is fixing other bugs.  According to your feedbacks, the big two bugs we have fixed are:
1) when choosing "View image" in the context menu after holding on an image, the original image does not show or open in a new tab;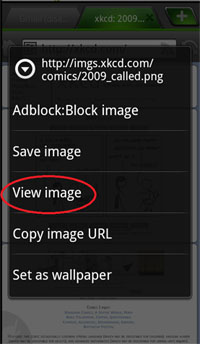 2) the browser keeps forcing close when using some add-ons, such as using Tab Mix Plus to bookmark a tab.
Anyone with either of the above bugs could update your Dolphin Browser HD to v4.5.1beta. For who do not have such problem, you could also have a try to experience our new beta version. Since this is just a beta version, we still needs your feedback to optimize our final released version. So pls don't hold back your feedbacks, we are willing to hear from you.
Another thing we need to claim here is that we decide to change the update cycle of Dolphin Mail from one week to a month. Hope you could continue sending us your feedback, let us make Dolphin Mail be more useful to you.
Experience the new beta version, pls click or scan the Barcode below: