Spring has Sprung for Dolphin v8.0: New Design and Better Performance
 Spring is the time for new beginnings and we have been busy at work redesigning a fresh new look for the spring season. For a more polished and better browsing experience we have revamped the Dolphin Sonar and Gesture access, Menu and Add-on bar. We are proud to say v8.0 not only freshens up the Dolphin look, but also make Dolphin easier to use.
 Come and get it! Dolphin Browser v8.0 is now available for on the Google Play Store.
 Refresh yourself with some of these highlights: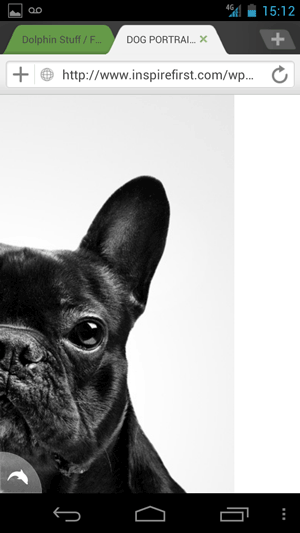 Dolphin button: Quick access to Dolphin Sonar and Gesture right from the home screen.
Now click the Dolphin button (at lower left of your screen) to access the most exclusive Dolphin features in one click – Dolphin Sonar and Gesture. Easily switch to the feature you use the most and get more help on how to perfect your skills by clicking the top right gear button.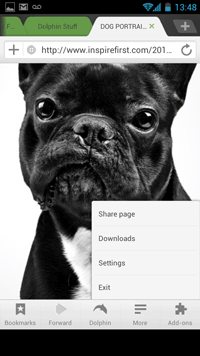 Menu Bar: Everything you need is right at the bottom of the home screen.
Click on the Menu button on your phone and the new Menu bar pops up. If you want it up all the time, pin it at the bottom in Settings > Dolphin settings > Show Menu
bar. Here it is clear we got into the spirit of spring cleaning with a reorganized Menu bar (from left to right):
Bookmark Sidebar
Forward or back
Gesture and Dolphin Sonar
More Settings
Add-ons Bar
We also moved the "Refresh" button to the URL bar put "Exit" under "More" for a cleaner look.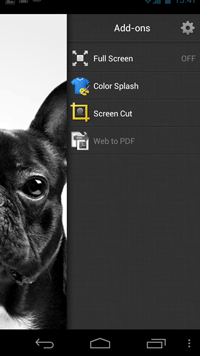 Add-on Bar: Never mistake an Add-on again with clearer Add-on names.
Now with names and icons on your Add-on bar, you can find the one you need quicker and easier. We want you to train your Dolphin to the way you want to browse; so we have included a couple of Add-on suggestions. Don't worry they are not pre-installed, but to try out some of the most popular Add-ons used by millions of users, all you have to do is download.
Go to Top button: Quickest way to the top!
Tired of scrolling all the way up, now you don't even even need a Gesture! Just use small arrow button on bottom left of your page.
 And as always, performance improvement is always our main priority. So besides the new look, Dolphin Browser v8.0 has even less bugs for smoother browsing.
 Seems like a lot of changes, right? We want to know what you think, so let us know by sending your feedback to support@dolphin-browser.com or leave a comment on our Facebook or Twitter page.
 Thanks!
Team Dolphin