Smartphone Owners Now Outnumber Users of Basic Phones
In January, we wrote a blog post 2012: The Tipping Point for Mobile which predicts that mobile sales (including tablets) will outnumber desktop and laptop sales this year. Well, we didn't have to wait long for a milestone to occur.
As of February, smartphone owners now outnumber users of more basic phones. 46 percent of the 2,253 adults surveyed by Pew Internet said they are now smartphone owners, growing 11 percent in the last nine months, while 41 percent of adults own a device that is not a smartphone.
Below is  a chart depicting the rise in smartphone ownership since May 2011. The areas circled in red shows a growth in smartphone ownership and a decline in other types of cell phones respectively.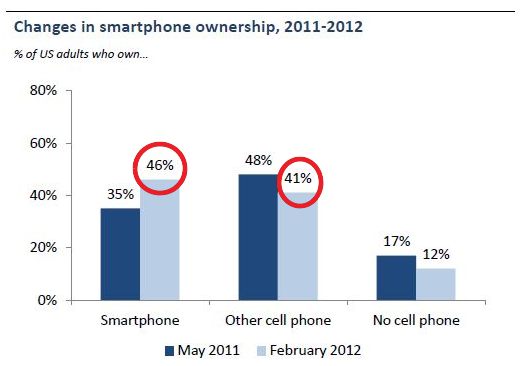 When asked about the platforms of their smartphones, both Android and iOS reported growth while Blackberry saw a 10% decline.
20% of cell owners now describe their phone as an Android device, up from 15% in May 2011.
19% of cell owners now describe their phone as an iPhone, up from 10% in May 2011.
6% of cell owners now describe the phone as a Blackberry, down from 10% in May 2011.
The proportion of cell owners describing their phone as a Windows (2%) or Palm (1%) device is unchanged since  May 2011.
The growth in smartphone adoption has also spurred a chain reaction especially in mobile ad pricing. Due to more traffic from smartphones, there has been a growth in pageviews but not enough advertising supply to fill the void. As a result, in recent weeks both Google and Apple have adjusted accordingly by lowering their pricing models. That's good news for advertisers and marketers with pricing taking a hit to stimulate mobile-ad spending over time.
Since Mobile World Congress came to an end in Barcelona yesterday, a snapshot of the buzz worthy announcements from mobile companies is pointing towards faster, better and more feature-packed smartphones we can all look forward to in the near future.
sources: Pew Internet, Adage
image: laptopmag