Samsung is World's #1 Mobile Vendor. Loses $10 billion After Apple Changes Chip Supplier
The numbers are out. Samsung became the world's number one handset vendor in Q1 2012, snatching the top position from Nokia who has held the number one spot for 14 years since 1998.
Recently, Samsung also unveiled its Galaxy S3 phone in Europe that's been getting a lot of positive review so far on its intelligent features — This will undoubtedly solidify its position further.
Samsung sold 86 million units in the first quarter while Nokia sold 83 million units and Apple at 33 million. Even though Samsung is the current market leader for handset sales, the continued success of the iPhone 4S, Apple's sales grew 96.2 percent in the first quarter of 2012.  China sold more than 5 million units and became Apple's second-largest market after the U.S.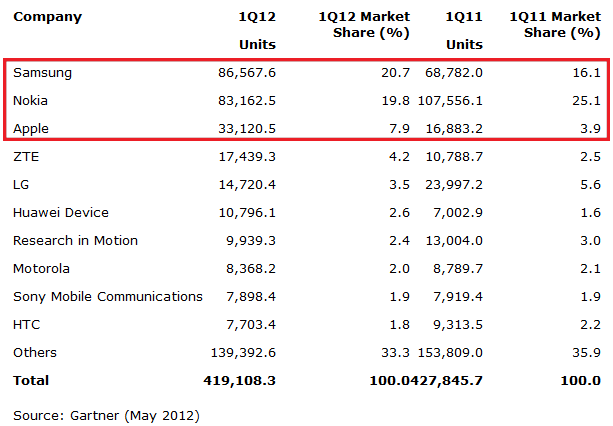 While Apple and Samsung are direct competitors in the handset domain,  it's ironic that Samsung is also one of Apple's biggest supplier of mobile dynamic random access memory (DRAM) chip.
A recent announcement that Apple has gone to Samsung's chip-making rival Elpida in Japan, sent Samsung's stock price tumbling. Samsung's share drop of more than 6%, eliminated $10 billion in market cap for Samsung in the wake of this Apple-Elpida news.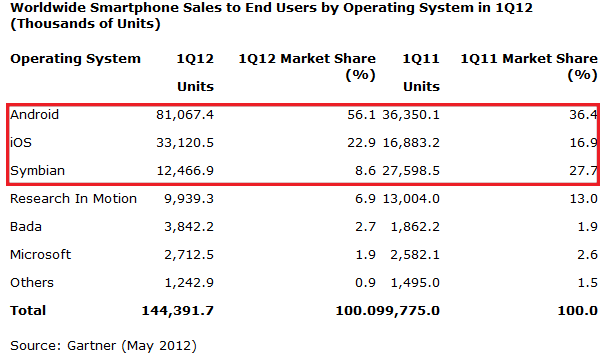 As Samsung remains the undisputed leader of the Android platform (56.1%), iOS is not far behind (22.9%). The main issue of the Android market is commoditization as product differentiation becomes more difficult while iPhone remains a stand alone product with no similar product comparison.
We think that as long as competition remains stiff within the Android platform, the outcome can only be more variety and better prices for consumers. In the mean time, we wait for the unveiling of the iPhone 5 which could potentially blow Samsung's Galaxy S3 out of the water and further close the gap in sales and market share between Apple and Samsung.
Source: Gartner
Image: iDownload blog