Rock 2016 with the Best Fitness Apps for Android
We hope you're ready!
We're here to help you keep the promise you made to yourself on January 1st to make healthier decisions in 2016. With your determination, and a little support from our handy guide, you can take advantage of a few key features from Dolphin Browser and your Android device to reach your fitness goals:
Healthy Mobile Usage 101
If you're going to rely on your smartphone to improve yourself this year, just remember that there's a right way and a wrong way to do it! For example, hold your device up at eye level, and try not to crane your neck downward at your device to prevent neck strain. Need a better night's sleep? As tempting as it is, don't browse the web right before bed, as it may disrupt your natural body rhythms. If you absolutely need to use Dolphin 30 to 60 minutes before you doze off, use Night Mode so your eyes take in far less artificial light from your smartphone.
Customize Dolphin for a Fit Lifestyle
Complement your new healthy lifestyle with a customized Dolphin Browser experience. Just follow these three easy steps:
Add a Motivational Theme!

Swap out your old theme for a new motivational poster; we're fans of the classic "Hang in there!" kitty ourselves.

Create "Workouts" and "Healthy Recipes" Speed Dial Folders:

Collect all of your favorite health blogs and bodybuilding tips in a special speed dial folder, so that all of the most important websites in your life will always be a few taps away.

Share Healthy Tips with Friends!

Friends that work out together stay healthy together! Motivate your buddies by sharing healthy blogs and recipes through Dolphin's easy sharing tool.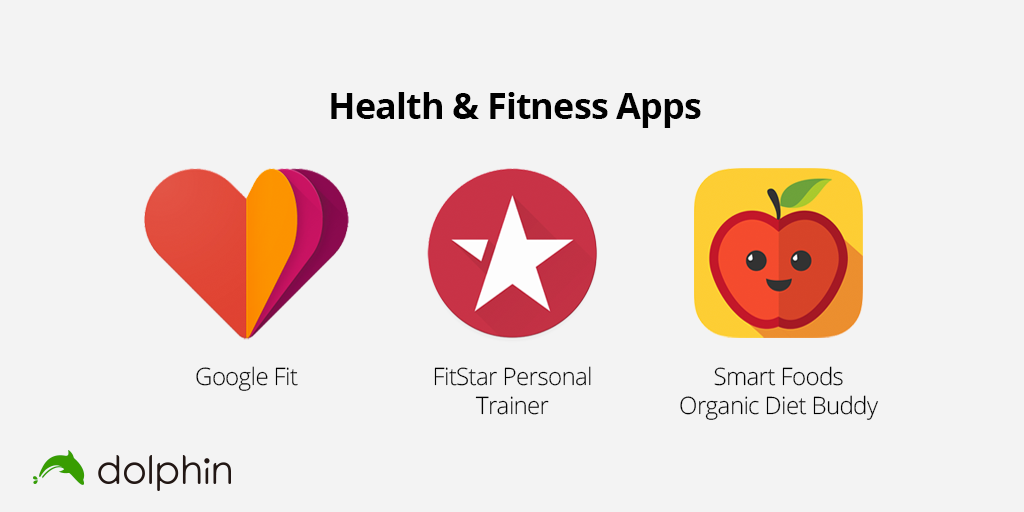 A few of the Best Fitness Apps Available for Android
You don't need fancy wearables to keep track of your health goals. In fact, some of the best fitness apps are incredibly simple. Google Fit automatically uses your smartphone's sensors to track progress as you run, bike, or stroll through the park, and it does a great job of displaying your personal data when you want to tweak your daily regimen. Ready to get moving? Check out FitStar Personal Trainer, a workout app that creates personalized training sessions that you can do from the comfort of your home. Healthy eating is just as important as working out, so check out the Smart Foods Organic Diet Buddy app from Saagara – a comprehensive manual for eating the healthiest produce available. Should you buy organic bananas? What's the best way to prepare a sweet potato? Where is my local farmer's market? This informative app covers all of these essential foodie facts and so much more, so use it to do your research before you hit the grocery store.
---
No matter how you decide to tackle your New Year's resolution, Dolphin is ready and waiting on your Android device to help accomplish your latest health targets. We can't wait to see how you've mastered your resolutions by this time next year!
(P.S. While you're working through the best fitness apps for Android, don't forget to stay on top of the non tech side of things.)
-The Dolphin Browser Team