Quick Reference Guide: Understanding Dolphin's New Design on Android
Have you noticed anything different about Dolphin Browser for Android lately, especially on the Android user agent? If you said yes, then you are right! Dolphin has optimized Gesture on Android and simplified its layout and moved some things around to make it easier to browse. This redesign is based directly on feedback from you, and how you want to navigate and customize your browser.  Also, don't forget to try out our voice control on Android and Add-on on Android!
Like with everything, it will take a little bit of time to get used to the new design. So here is a short reference guide for you to get up to speed in no time flat.
1.     FIND ON PAGE & SELECT TEXT: Long press the URL bar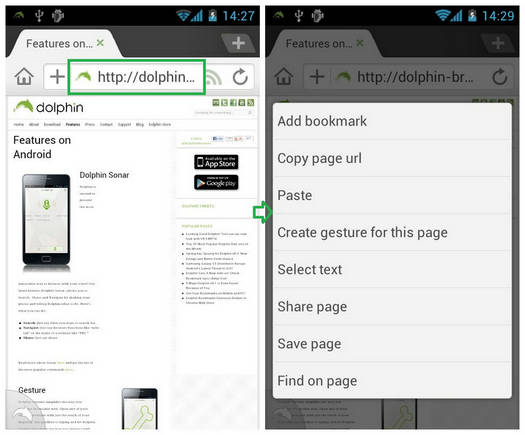 Previously: Under Menu> More.
Why? A faster way to find and select what you want from the home screen.
 2.      DOLPHIN SONAR AND GESTURE: Click Dolphin button at bottom left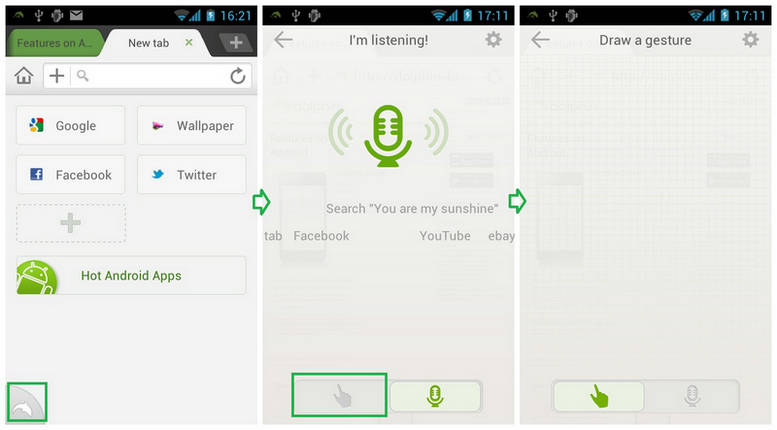 Previously: Sonar was accessed by shaking and Gesture was accessed through the hand button on bottom left of screen.
Why? With the inclusion on Sonar we needed a place to quickly access it without having to always use shake (what if you are on a run?). So now you can access both right from the home screen and you can switch easily.
*Note: You can now change the location of the Dolphin button (on left side) by Gesture Settings > Change entry location
**Note: Shake it up! Don't forget you can still shake to access Dolphin Sonar.
 3. QUICK ACCESS REMOVED: Moved from the sidebar to more intuitive locations. 
1)      Bookmarks
Previously: Bookmark button in Quick Access menu bar.
Now: Click gear shaped button at the top right of Bookmark sidebar. Easily drag a bookmark to reorder it or click the trash button to delete it.
2)      History
Previously: History button in Quick Access menu bar.
Now: Below bookmarks in Bookmark sidebar including "Most Visited."
3)      Theme
Previously: Theme button in Quick Access menu bar.
Now: Called "Color Splash" in right Add-on sidebar.
4)      Settings
Previously: Settings button in Quick Access menu bar.
Now: More […] button on the main menu bar on home page
5)      Add-ons
Previously: Add-on button in Quick Access menu bar.
Now: Add-ons and settings on right Add-on Sidebar
6)      Gesture
Previously: Gesture button in Quick Access menu bar
Now: Click on Dolphin button on bottom left and then Gesture hand symbol. On the top right there is a gear with Gesture settings.
4. BOOKMARK ADDING: Click "+" in the URL bar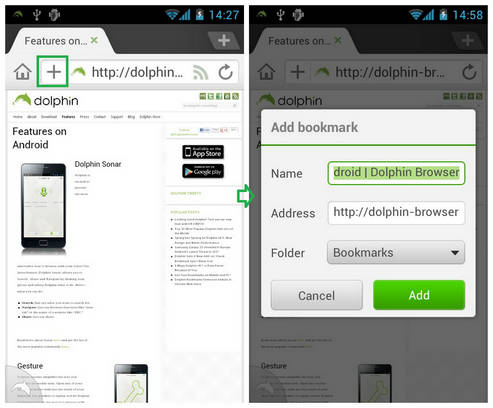 Previously: Swipe your phone first and then click "+" in Bookmark sidebar, now save from URL bar.
Why? Now its super simple. Just click on link and save.
4.      DISAPPEARING HOME: Settings > "Set Homepage" option
Previously: At the top left of the URL bar, but now it is set "off" by default.
Why? Dolphin is fully customizable. Some people want it, some people don't. If you want it, enable it under: Menu> More> Settings> Set Homepage> Home Button on URL Bar> On.
5.      SPEED DIAL: Click "+" sign on new tab page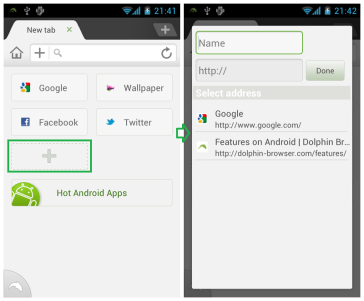 Previously: Long hold on a bookmark to bring up add speed dial menu.
Why? Bookmarks are now suggested when you add a new speed dial. To add speed dial just click "+" button on a new tab page.
6.       WINDOW VIEW: Removed from right tool bar. Now accessible in Gesture. 
Previously: Access by creating a Gesture for "View Tabs as Windows".
Why? Custmization is key. 
7.      OPEN IN BACKGROUND: Now you can access right under Lab.   
Previously: Under "Web Content" settings.
Why? Easier for people who like it, and hidden for those who don't.
Are you less confused? Were you ever? Want to know where something else is? Feel free to contact us at support@dolphin-browser.com or leave comments below. Or you can send feedback directly from Dolphin by clicking Menu> More> Settings> Help> Send Feedback.
If you are reading this post but you didn't get the latest Dolphin, Download it now on Google Play Store.
Keep on swimming,
– Team Dolphin
 PS. As always we want to hear your feedback, so don't hesitate to reach out and join the exclusive Dolphin Trainer Program on our Facebook page. Sign up on your PC to help us improve Dolphin by giving feedback, answering questions, and working your way up to be a Dolphin Trainer.
PS. Please sign up on your PC