Mobile & Social Ads: Facebook's New Marketing Solutions
Facebook has a total user base of 845 million monthly active users (MAUs). According to Facebook, worldwide mobile MAUs increased by 76% from 245 in 2010 to 432 million in 2011. Out of which 58 million or 13.4 percent access Facebook strictly from a mobile device only.
Facebook is anticipating the rate of growth in mobile usage will exceed the growth in usage through personal computers in the foreseeable future and this is where Facebook will be focusing on — developing mobile products to encourage mobile usage of Facebook.
A large part of this are new ways of user participation marketing for brands. To ensure Facebook remains free, here are the new marketing solutions Facebook is rolling out so brands can continue to pay for our "Facebooking."
Reach generator — Allows advertisers to reach 75% of its audience instead of the current 16% average reach. However, Facebook requires several actions from users to occur first before a boat load of paid advertisement shows up in your feed. You must either "Like" a page, or your friends must "Like", comment, share, check-in or claim an offer.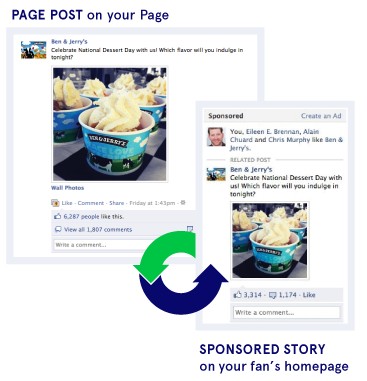 New Premium Ad Units — Page postings can now be turned into ads that are featured on the right-hand side homepage, news feed on desktop, mobile, (in red square below) and optionally on the log-out experience.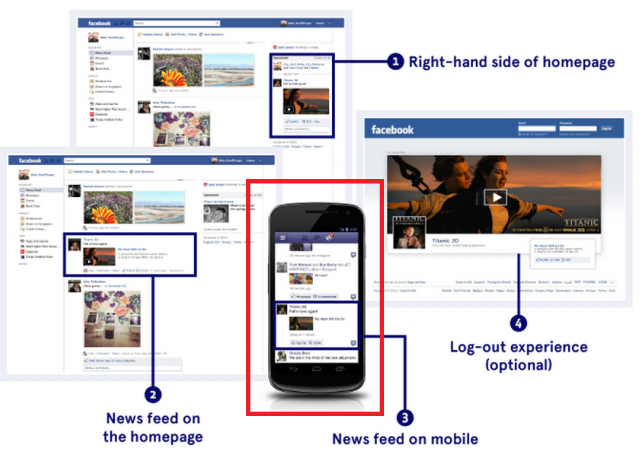 Offers — allows businesses, brands and other page owners to share discounts and offers with their fans. Offers are like coupons and when someone claims an offer, they'll receive an email that they can show at the brand's physical location to get the discount.

Implication to users:
You will be seeing more and more relevant and targeted messages — which may or may not be a good thing.
Implication to brands:
More creative ad copy and images as part of relevant content as well as stand alone posts will be the new black. The roll out of real-time insights will give brands an immediate look into the engagement factor (or lack thereof) of its posts and offers.
Highly qualified leads/customers and fans which will lead to higher conversion rates.
Implication to Facebook:
The new ad inventory will add to Facebook's revenue streams.
Source: Facebook