Mobile Shopping Valentines Stats 2012
After Christmas, Valentine's Day is the holiday with the second highest spend. This year was no exception with $17.6 billion spent. A chart by  NRF's 2012 Valentine's Day survey conducted in January shows how tablet and smartphone owners were planning to incorporate mobile solutions into their Valentine's Day purchases.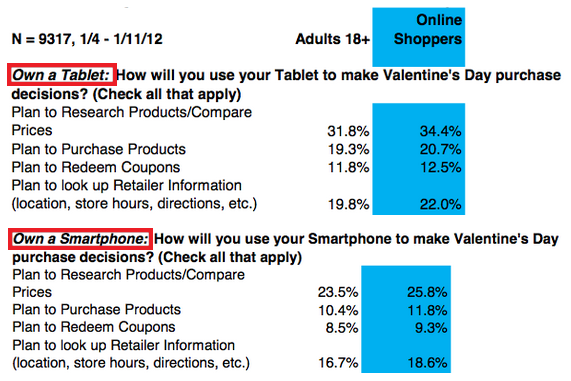 Based on the information above on research and shopping through mobile devices, it comes as no surprise that IBM's data chart confirmed that traffic from mobile devices more than doubled since 2011. Below shows the growth of mobile searches, browsing and what consumers searched for on their phones for Valentines Day this year.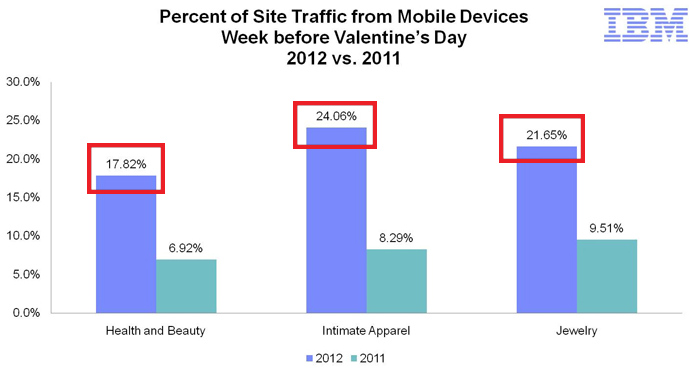 Megabrands who are aware of how mobile has contributed to its bottom line continued its pursuit of this space through the following methods to capture the spirit of St Valentines this year in the US and global markets.
Starbucks updated its Cup Magic augmented reality app in time for Valentine's Day. The app generates 3D virtual messages by scanning limited edition love heart adorned cups.
Luxury jeweler Swarovski released two apps on Valentine's Day:  the "Sparkling Personals" Facebook app, which offers users a "personal advertisement," or custom background, that can be shared on their walls, as well as the "Sparkling Valentine's Day Assistant" geo-localized mobile app, aimed at helping gift-givers on the go.
PayPal worked with eight leading merchants as part of a Valentine's Day promotion to test the "Shop and Pay On-the-Go" program, which went live across 15 of the subway stations offering flowers, chocolates, fashion totes and spa massages for her, iPhone controlled RC cars for him and award winning entertainment shows and city tours for couples.
With the celebration of Apple's 25 billion downloads from the app store and Smartphone owners now outnumbering users of basic phones in the U.S — we can't wait to see what Valentines Day 2013 will have in store for the mobile industry.
Sources: IBM, Huffington Post, NRF, Aisle Buyer