Mobile: Shopping Doubled in December 2011 Holiday Season
IBM recently released some pretty cool information from last year's holiday shopping season compared with 2010 and we wanted to share this.
The stats clearly show that mobile shopping will only increase from here on forward. Related industries like mobile advertising, location based services and contextual search will definitely be the benefactors of this growth.
December 2011 Compared to December 2010 (year/year)
Mobile Traffic: 14.6 percent of all online sessions on a retailer's site were initiated from a mobile device, more than double the rate of 5.6 percent over this same period in 2010.
Mobile Sales: Sales from mobile devices doubled, reaching 11 percent versus 5.5 percent in December 2010
The Apple Shopper: Apple's iPhone and iPad ranked one and two for mobile device retail traffic (5.2 percent and 4.3 percent respectively). Android was third at 4.1 percent. Collectively iPhone and iPad accounted for 9.5 percent over the course of the month
The iPad Factor: Shoppers using the iPad also continued to drive more retail purchases than any other device with conversion rates reaching 6.3 percent compared to 3.1 percent for all mobile devices.
Mobile Device Traffic Chart – Android, iPhone & iPad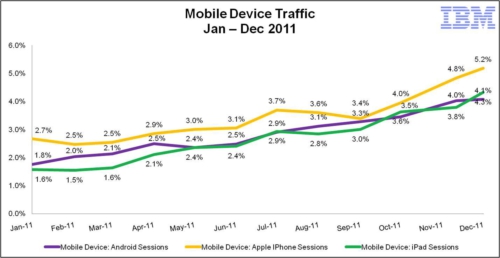 Did you shop via your mobile devices over the holiday period?
Stats Source: IBM Smarter Commerce.
Image courtesy of Kikscore