Mobile Rules the Internet 2012
Considering the sales of mobiles are expected to outnumber PCs it comes as no surprise that internet usage for 2012 will be changing dramatically as well. Based on the numbers predicted for sale of mobile devices and mobile internet usage predictions — mobile is the next frontier of scale.
As smartphones and tablets get cheaper and data speed increases via mobile service providers, all signs are pointing towards explosive numbers ahead in all areas.
The who, what, when and how of the mobile internet for 2012:
There are 113.9 million mobile internet users, out of which 106.7 million of them are smartphone users.
In 2011, there were 33.7 million tablet users. In 2012, there will be a 62.8% increase to 54.8 million users. Out of which 41.9 million of them will be iPad users, leaving just 12.9 million people for the other tablet makers to compete over.
40% of users access social media from their phones.
Facebook will reach 143.4 million U.S users in 2012. An 8.2% increase from 132.5 million in 2011.
Mobile commerce sales will rise 73.1 percent for a total of $11.6 billion.
51.2 million people will watch videos online through smartphones.
Across Europe's Top 5 markets, iPad ownership is up 74% year-on-year with U.K showing 115% growth from 2011.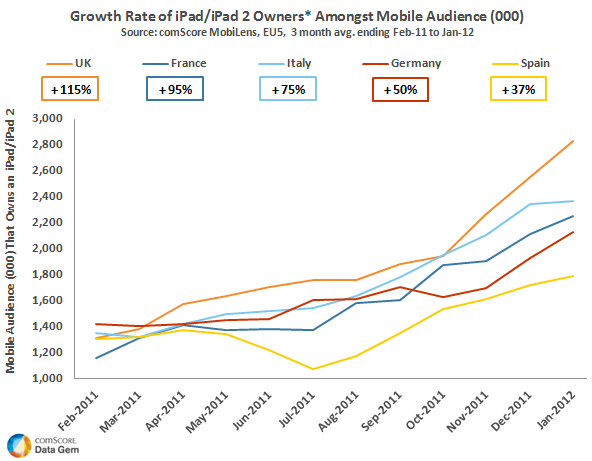 Note that comScore's study only takes mobile phone subscribers into account and does not include devices used for enterprise or retail purposes. Due to that, the graph above probably represents underestimated figures.
Sources: Slots of Vegas, comscore, eMarketer.
image credit: redcappi