Mobile: Facebook Releases Facebook Camera. Is it Cool or a Clone?
News have been abuzz about Facebook recently. Mostly around the fact that it was the most anticipated tech IPO of the decade which quickly fizzled into a spiral of scandals and lawsuits — all within a week of its NASDAQ listing on May 18th.
On May 24th, hardly a week after its IPO, Facebook released Facebook Camera for iOS.  A photo sharing app incredibly similar to Instagram — even though it had agreed to acquire Instagram in April for $1 billion. Since the official announcement, the deal has yet to be completed and according to the companies' agreement — if the deal does not go through, Facebook will owe Instagram $200 million.
During the acquisition announcement, Mark Zuckerberg, CEO of Facebook had said that Instagram would function as a separate entity from Facebook. If that's the case, the release of Facebook Camera in essence would create a competitor on Facebook's side towards its own acquisition.
Nevertheless, here are some of Facebook Camera's similarities to Instagram:
Your friends' latest photos are displayed in a single scrolling feed. Check.
You can simultaneously upload multiple photos to Facebook. Check. — (Facebook's main app only allows you to upload photos one at a time)
Facebook Camera also allows you to edit, crop rotate and has several filters that change the appearance of photos. Check.
Tag your friends, add photo captions and say where you are. Check.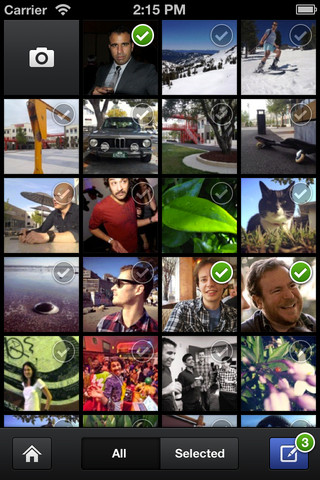 In a casual statement made last month by James Pearce, head of mobile developer relations for Facebook"Had Facebook been built today, it would be mobile.
Either way, Facebook will inherit all of Instagram's user base or if the deal does not go through, will have its very own photo sharing app and give Instagram a good run for its money.
In the days leading up to Facebook's IPO, Mark Zuckerberg had said that said that mobile is Facebook's number-one priority. And one of its top priority post-IPO was to fix its mobile app.
It definitely looks like he is keeping up to his promise.
images: iOS app store