Latest Dolphin Browser Beta Version is now available!
Our latest Dolphin Browser Beta version is now available!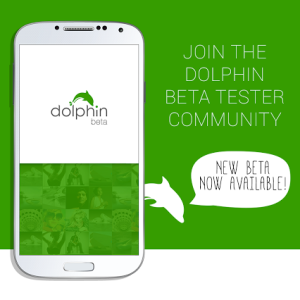 What's New (Beta 10.0.4):
★ 21 languages now supported
★ Tab list animation optimization
★ Dolphin Home Edit support
★ Stability improvement – cache to SD, crash bugs
★ Fixed a critical bug
To become a beta tester, please follow the steps below:
1. Sign into Google+ and join the community (Skip this step if already joined): http://bit.ly/DolphinBetaTesters
2. Follow the instructions in the Beta Testers community on how to access the Beta version
Please place your feedback in the Discussion board, or send to support@dolphin-browser.com.
We would especially like to welcome users who can utilize different languages to join this beta test!!!
We appreciate your participation in our Beta program. All of your feedback is highly valuable to us.
Cheers!
Team Dolphin