How Americans Use Their Phones in Purchasing Decisions
According to a recent Pew Internet study, more than half of adult cell phone owners used their cell phones while they were in a store during the 2011 holiday season to seek help with purchasing decisions — during a 30 day period before and after Christmas.
Here are some interesting habits by Americans when it comes to shopping in a physical store:
38% of cell owners used their phone to call a friend while they were in a store for advice about a purchase they were considering making.
25% of adult cell owners used their phones to look up the price of a product online while they were in a store, to see if they could get a better price somewhere else.
24% of cell owners used their phone to look up reviews of a product online while they were in a store.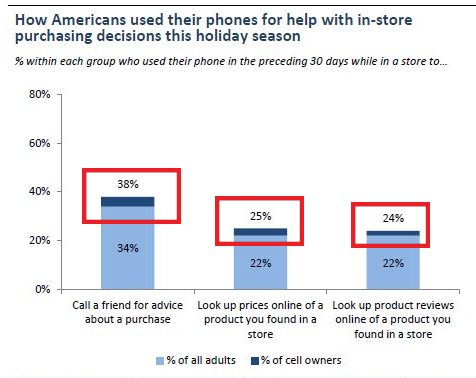 Unsurprisingly, online price matching and reviews go hand in hand. One in five or 20 percent of "mobile price matchers" ultimately made their most recent purchase from an online store, rather than a physical location.
This statistic is also rapidly being shaped by retailers rushing to incorporate mobile and social commerce into their marketing mix.
What this points to three are three very obvious reasons how mobile is changing the online and offline shopping habits of American consumers.
1) Instant Price Matching — In any shopping situation, we are constantly bombarded with an abundance in choice. In fact, Americans expect choices and lots of it which often lead to analysis paralysis. What mobile has done is cut down the noise and distractions during shopping. In a price sensitive economy, instant price matching help consumers stretch the dollar by locating the best deals online.
2) Convenience — The convenience of being able to shop via mobile devices has provided yet another outlet for purchase decisions and choices. Coupled with the fact that it can be done at the consumer's leisure leads to a more rewarding shopping experience.
3) Relevance & Context — Offers and ads based on searches on mobile devices through Location Based Services (LBS) will provide consumers with what they want to see and places which they can purchase in-store or online.
source: Pew Internet, image credit: evilcyber