Hi! SnipSnap Mobile Coupon App. Bye Coupon Clipping Scissors.
At Dolphin , we think everyday is a good day for a discount off retail prices! For those of you on iOS and who happen to love coupons, here's some good news!
First off, you won't have to forget bringing another coupon into a store with you again. Secondly, you can toss your coupon clipping scissors out.
SnipSnap Coupon App — Just take a picture of any printed coupon offer and SnipSnap will convert the text, images, barcode, promo code into a mobile-optimized offer. When you get into the store, just pull out your phone and redeem the offer by showing the coupon to the cashier.
We've all been in a situation where we arrive at a store only to remember we forgot to bring the coupons to take advantage of the savings.
Here's why SnipSnap's features are really cool.
1. In-Store Reminders — When you enter a store, SnipSnap delivers a push notification to remind you what coupons you have saved there.
2. Scans All coupons — Whether you get coupons from the newspaper, mail, magazines or elsewhere, you can import all of them into the app.
3. Social Sharing with Friends — Post coupons you've clipped to Facebook, Twitter, and Email so your friends can get in on the savings too.
4. Expiration Date Alerts — Get notified when your coupons' expiration dates are approaching.
5. Store Success Rating — See how successful other users have been in redeeming at your favorite stores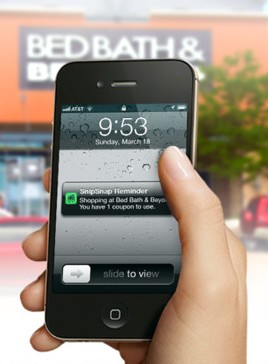 This app makes couponing (is there such a word?) so much more convenient and fun, not to mention the amount of random pieces of paper we no longer have to carry around with us.
For you Android fans, get ready for the Android version late this summer!
app disclaimer: Works at most retail, restaurant and local businesses. Manufacturer coupons (redeemed at grocery stores) not supported yet, but will work with a future app update.