Find PDF Viewer in Dolphin Browser Mini V1.2 Beta
It has been a period of time since our last update, we add new features in Dolphin Browser Mini V1.2 in order to bring something new for our users. I am sure you will like it. Here I will introduce several major updates in Dolphin Mini.
ONE: Find PDF Viewer in Dolphin Browser Mini.
Many of you have required for PDF-related features. After our consideration, we embed PDF viewer feature when you want to open a PDF file while browsing. You needn't to use 3rd party app installed in your phone for you to view PDF files, because you can view it online. Dolphin Mini PDF viewer automatically previews pdfs, powerpoint presentations, and other documents in Google Docs Viewer. So you will see, although it calls "PDF viewer", actually it can open pdf, ppt, doc, tif files, etc.
Q1: How to view PDF files directly?
A1: just click the files, it automatically opened in new tab for you by default.
Q2: How to download PDF files?
A2: 1) long press the link of PDF files, choose the "save link" option in context menu. 2) click "download" option at the bottom of the page after you click the link.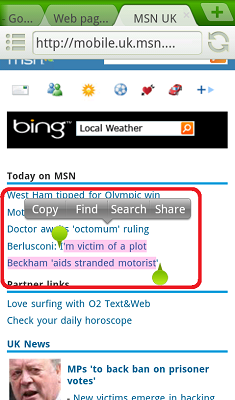 TWO: New-style Copy/Select text.
Last time in Dolphin Browser Mini v1.1, we just add this feature. But this time, we had do some polish on it which become more harmony with the interface.
THREE: Open in Overview
According to recent feedback of latest updates, we heard that lots of you ask for the "open in overview" like HD version in Dolphin Mini. Finally we decide to add this feature. You can find it in Toolbox>Settings>Open pages in overview.
FOUR: File Uploading on Android 2.2
Same with all the other Dolphin Browsers, Dolphin Browser Mini support file uploading on Froyo now.
FIVE: Change Download Directory
You can also change the download location in Dolphin Browser Mini v1.2 beta. You can find it in Toolbox>Settings>download directory.
Above those features I mentioned above, we had also fixed some bugs in V1.1. The most obvious one, clear history & cache when exiting doesn't work. Thanks for your continuous feedback to help us make progress. Just keep up!
Download Dolphin Browser Mini v1.2 beta here.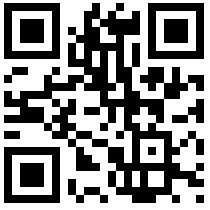 Finally, it is a pity that our previous Facebook Fan page is closed for some reason, so we open a new fan page. Hope all of you come and become fans of our New Facebook and keep updated with Dolphin Team. 🙂