Features

Gesture
Browse with a swipe
Dolphin Android Gesture simplifies the way you navigate the mobile web. Open your favorite site with the touch of your fingertip. Bring up Match.com by drawing a heart. Scroll up and down the page by drawing arrows. Or create your own Gesture by drawing a symbol.
On Dolphin for Android, iPhone and iPad.?

Sonar
Voice Search
Dolphin Sonar allows you to search, share and navigate by shaking your phone and telling Dolphin what to do. Search by telling Sonar your search query. Share by saying "Share". Navigate the web by saying "New Tab" or the name of a website like "BBC".
On Dolphin for Android and iPhone.

Share
One-tap sharing
Right from Dolphin, you can tweet web pages, post them on Facebook, or share them via email. Visit a site, tap Share from the menu, choose a service & tag your friends! It's that easy.
On Dolphin for Android, iPhone & iPad.?

Save
Save to Evernote, Box
Grab web content while browsing Dolphin & save it directly to Evernote or Box. Clip webpages to Evernote & add your own personalized title, tag, comments, & keep organized in your notebooks. Save webpages to a specific directory in your Box account as a PDF.
On Dolphin for Android, iPhone & iPad.?

Dolphin Connect
Sync bookmarks, tabs
With Dolphin Connect, sync bookmarks, tabs, history, &?passwords across devices. Send URLs, a phone number, directions, or photos between your computer &?connected devices with desktop extensions. Download the extensions now on Chrome, Firefox or Safari.
On Dolphin for Android, iPhone &?iPad.?

Home Screen
Your top sites + apps
Dolphin homescreen gives you one-tap access to your most visited sites &?favorite web apps. With a simple drag &?drop, group your favorite sites &?web apps into folders, similar to how applications are organized on smartphone home screens.
On Dolphin for Android, iPhone &?iPad.?

Web App Store
One-stop browser shop
The all-new Dolphin web app store offers access to the most popular web apps, making the browser a one-stop shop that users never have to leave. Choose from over 200 web apps, including Facebook, Twitter, Wikipedia, Amazon &more.
On Dolphin for Android.?

Add-ons
Extra browsing tools
Beef up your Dolphin by installing your favorite Android Add-ons. Use Add-ons for tasks you need at your fingertips. Want a save web pages as a PDF? Get Web to PDF. Want to read a webpage in French? Get Dolphin Translate.
On Dolphin for Android.?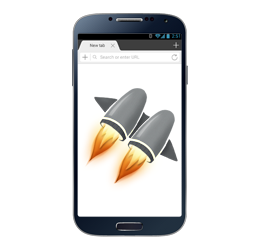 Jetpack
A browsing boost
Dolphin Jetpack uses Dolphin's very own HTML5 rendering engine that powers Dolphin for the best HTML5 web game &web app experiences. Enables new cool features such as video downloader, Adblock, etc. 5 – 10X faster than the default Android browser &?2X faster than Chrome.
On Dolphin for Android.

Flash Support
Flash is back
You can once again view Flash content on your favorite Android browser. Simply download the Adobe Flash Player app from the internet onto your phone,?&?turn on Flash Support in Dolphin settings. No more switching to the Youtube app to view video content!
On Dolphin for Android.?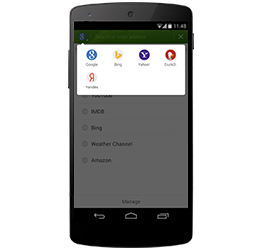 Search Suggestions
Find it faster
Find what you're searching for faster. Instant access to History, Bookmarks and
Most Visited when tap on address bar.
Type your query into the URL bar,?&
choose to search directly within alternative search engines, such as Yahoo, Amazon, DuckDuckGo, Yandex and more.
On Dolphin for Android.

Tabbed Browsing
Classic or List View
Tabs make browsing the mobile web as easy as on a desktop. Manage your tabs across the top of your screen, or access the tab list with one swipe of the Dolphin key. No need to leave your webpage to shuffle through open sites, Dolphin makes it easy to multi-task.
On Dolphin for Android, iPhone?&iPad.?

User Agent
Mobile + desktop mode
Switch between desktop?&?mobile view with the Dolphin Android User Agent. View mobile mode for compact information or view in desktop mode for full functionality. You can also switch the target site layout between Android, iPhone or iPad sites.
On Dolphin for Android, iPhone?&?iPad.?

Beautiful UI
Innovative browsing
Dolphin has been completely redesigned in an effort to further simplify the browsing experience for users on Android devices. With an intuitive new homescreen, streamlined navigation,?&?search suggestions, you'll never have to leave your browser.
On Dolphin for Android, iPhone,?&?iPad.

Browsing Preferences
Customized browsing experience
Fullscreen mode, night mode,
private mode, and more choices,
allow you to pick the best preferences for yourself. Adjust and satisfy your needs
under different circumstances quickly.
On Dolphin for Android, iPhone &?iPad.?

Control Panel
Centralized management access
Simply swipe right to access control panel to manage bookmarks, downloads, themes addons and more. Similar concept to control panel on PC, provides you instant access to manage almost every part of your mobile browser.
On Dolphin for Android.