Enjoy Multi-language Supported Dolphin Browser HD v4.0 Pre-release Version!
Firstly, a big thanks to all of you that lend us a helping hand in response to our translation requests. And all the languages you translated for us were added into Dolphin Browser HD, altogether 12 languages. When we need help, you will always be there for us. Maybe each time we just express our gratefulness with such simple word "Thanks", while in fact appreciation is a kind of emotion more than we can say.
Come what will, thanks to all the translators and hope you can offer your precious help again. 🙂

German: Alexander Haller, gerriT, Jack-In-Da-Box, Markus Gassenbauer

Italian: Diego Pierotto, Massimo Roselli

Russian: Градович Сергей, Ilya Kiseliov

Spanish: Jose Miranda

Portuguese: Paulo Oliveira

Polish: Tomasz Janiszewski

Turkish: focus ancermas, Çağatay DALGIÇ

Danish: Torben Kjærbro

Czech: Richard Hřivňák

Japanese: Kumpei Takahashi, 猫戯作

Korean:Sara, Liz

Traditional Chinese: IsaacHuang, kevy cheng

(

Names/ Languages listed in no particular order

)
These days, we are struggling to fix the bugs which are reported by you and bringing you freshness. Apart from the drag down window issue in
beta1 version
and the swipe action in
hotfix version
, in this pre-release version we continue to bring you a better one.  At the same time, except for the Bookmarks folder we made for you in
beta2 version
, this time we bring you the
final Multi-language supported version
of  Dolphin Browser HD. In addition, we made some upgrade on UI:
Add "refresh" button back.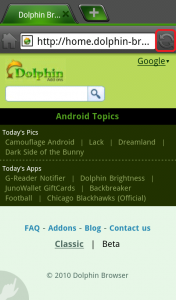 Add address bar back in bookmark side bar and change the style of the icon on the button of the side bar.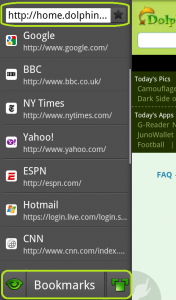 Please give it a try and let us know how it goes for you in the comments here or send us an e-mail.