Drag Down Windows Issue Solved! – Dolphin Browser HD v4.0 Beta1 Released.
We just published Dolphin Browser HD v3.0 to Android Market about 10 days ago, while there are still some defects in that version. According to your feedback, we fix some bugs and decide to release a new version – Dolphin Browser HD v4.0 Beta1 for you to have a test. Your precious feedback is warmly welcomed.
Bugs we fixed:
Drag down windows issue in fullscreen mode. And we change the windows' style.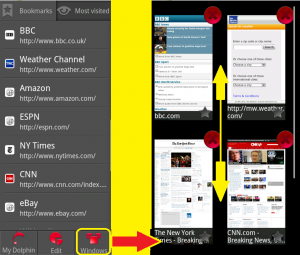 Swipe action issue mentioned in the hotfix version.
Notes: You cancheck this postto go through the details of swipe action issue.
Some Force Close bugs reported by your logs.
Some other bugs we collected from emails for our users.
Coming Soon to Dolphin Browser HD V4.0:
improved user interface
Bookmarks folder
and lots more!
Please give it a try and let us know how it goes for you in the comments here or send email to us. We will never give up optimizing the performance of our app until bring you the best browser.