Dolphin Jetpack Beta for Android: 25% Faster, FREAK Bug Free, WebGL Gaming, Outstanding HTML5 & Flash Support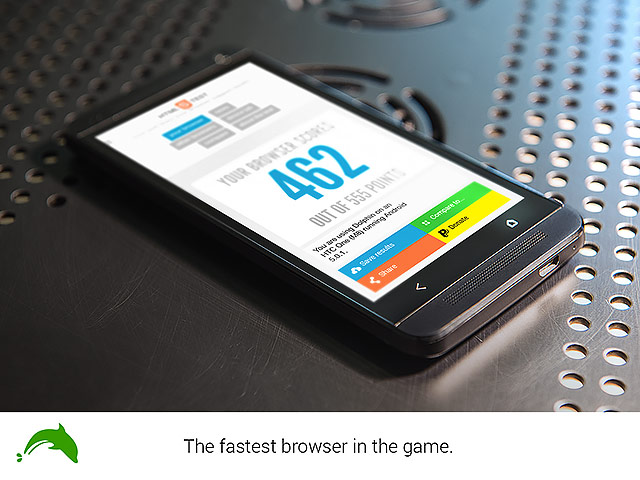 Dolphin for Android gets a big upgrade with the new Dolphin Jetpack V7 Beta, making this our fastest and best release yet.
Lightning Fast Web Experience. Faster Than Firefox And Chrome
We optimized Dolphin Browser to be fast. Really fast. The new Dolphin Jetpack engine loads pages 25% faster. The web on your smartphone just got a lot faster.
To get an idea how fast the new Dolphin Jetpack engine is, we ran some tests. Here are the results (higher is better):
Dolphin Jetpack V7: 5896
Chrome: 5877
Firefox: 5662
The new Dolphin Jetpack is faster than Firefox and Chrome on Android smartphones!
FREAK Android Bug Patched
We secured Dolphin to be safer than ever. The newly discovered FREAK vulnerability for Android's SSL and TLS is fixed. The security hole is patched and you can test it yourself. Visit freakattack.com and check for yourself.
HTML5 And WebGL Support For Games And Video
We improved HTML5 support for Dolphin and added WebGL. Video and gaming are now smoother and faster. WebGL is the industry standard for 3D graphics, and the GPU now takes all the load for graphics, freeing up the CPU for other tasks. Your Android smartphone will be more responsive and power efficient than ever before.
Additionally, we improved HTML5 canvas performance across the board.
Dolphin Jetpack scores 462 points in the latest HTLM5 tests, which is higher than Firefox for Android. You can test the new Dolphin Jetpack HTML5 performance here.
We also added support for WebRTC, the newest web video chat standard. You can test the new WebRTC functionality here.
Outstanding Flash Support
Dolphin Browser support for Flash is legendary. While other browsers abandoned Flash or provide legacy support, Dolphin is ahead of the curve. Our newest beta release provides the best Flash experience on Android.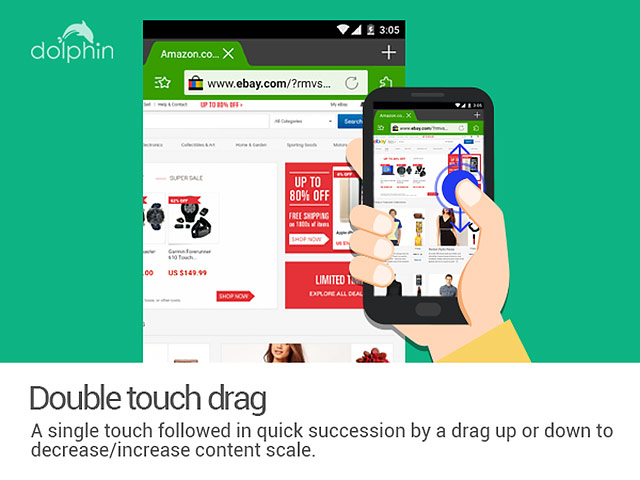 Smarter Web Browsing With One Hand
The new Dolphin Browser is not only faster and more secure, it's smarter too. We added two amazing yet simple to use gestures for one hand usage.
You can now zoom on a webpage using one hand. Double tap and swipe up or down to zoom in or zoom out. Increase the font size, images and graphics with just a swipe.
Double-tap zoom is also improved. It recognizes the double-tap center, and display web content with smart automatic alignment.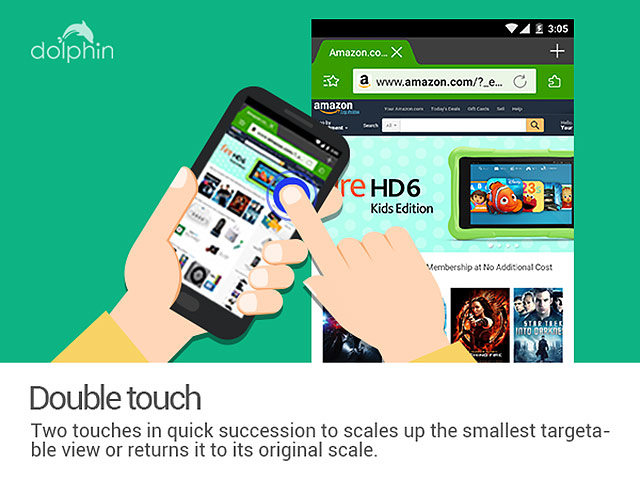 Download Dolphin Jetpack
You can try the new Dolphin Jetpack release today. Head over to our community page to get the latest and greatest Dolphin Jetpack v7 beta. Whether you're using Samsung, HTC, LG, or any other Android phone, as long as you have Android 4.3+, you can download Dolphin Jetpack. Try it today!