Dolphin's Top 5 Predictions for Google I/O 2016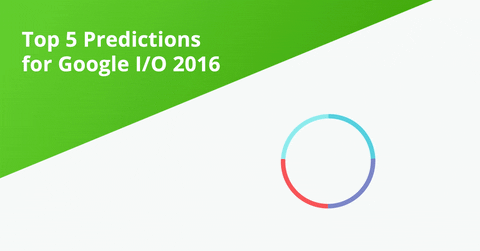 Each year, some of the best technological minds in the world gather together for Google I/O. Developers from all over get a rare opportunity to convene in order to discuss and learn from each other, as well as get a sneak peek at what Google's been cooking up over the past year at the Googleplex. At last year's conference, attendees got their first look at Android Marshmallow, heard about the very real, very near future of virtual reality, and saw the first Uber integration for Android Wear.
You're probably wondering what's in store for I/O this year. Well, we were too – so we did some digging. Here's our list of Dolphin's Top 5 Predictions for Google I/O 2016. Enjoy!
New Hardware
Google I/O is the perfect time to unveil the hottest up and coming hardware. We are certain the next generations of Google wearables will make their way onto the stage this year, but it's also likely we will get a glimpse at the newest generation of Chromebook Pixel laptops, as well as plenty of information about the upcoming Nexus 7. We might even hear some new information about Google Glass!
Google Glass
We know it's been awhile since any real news about Google Glass has surfaced and some of you might be sceptical about this, but hear us out. A recent news break announced that medical tech startup Augmedix has received a $17 million grant from five of the world's top medical systems to utilize Glass technology to streamline patient experiences in hospitals. We predict that this is only the first of many new uses for Google Glass that you'll hear about this year.
Virtual/Augmented Reality
This one will come as no surprise to most of you, since VR/AR is pretty much all anyone has been talking about in the tech world since we got our first eyes on the Oculus project back in 2012. Now that it's become a reality and several companies have stepped over the hurdle of creating their own headsets, the real game is on. Google's only serious foray into wearable VR tech so far has been Cardboard, but it's definitely possible they could announce a new device at this year's conference. Expect to hear big news on the VR front at I/O.
Android N
Google took a slightly different path with Android N this year by announcing it two full months before I/O. It's already available as a developer preview, so lots of information about the new OS is already available. Still, hungry fans will surely get a plethora of new information about the next generation of Android by tuning in to the conference. Early predictions for which sweet treat will carry the N branding are pretty one-sided.
Self Driving Cars
There's been a lot of news this year from Google and Tesla, among others, regarding self driving cars, so we'd be shocked if there weren't some big announcements at this year conference. Early models are on the road already, so we're hoping for some information on when new Google cars will be available to the public. We've known since 2014 that Google has no intention of producing the cars themselves, so maybe we'll get an idea of who they might be partnering with down the road? We already know they'll be teaming up with Fiat, but it remains to be seen if they will have exclusive manufacturing rights to Google cars.
—
What else do you think will happen at Google I/O this year? Let us know in the comments section below!