Dolphin Zero. Everything you browse will be gone in seconds!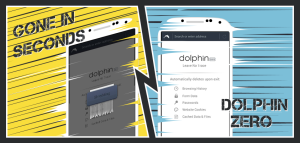 Today we're launching Dolphin Zero, a browser solely dedicated to give you an entirely new and unique browsing experience – an ephemeral one. This means that you'll be able to browse, find what you want, and then virtually shred all data that other browsers keep.
Everyone wants privacy, and there is no exception when it comes to browsing the web. However, some browsers do what they can to collect as much information about their users as possible. Dolphin has chosen to go in the opposite direction, and we are dedicated to provide a completely private browsing experience. We believe our users should have full control over their data when browsing. So naturally, we went on to create Dolphin Zero.
The Dolphin Zero is a streamlined version of our award winning browser. The focus is on user experience, simplicity and of course privacy. We have added an aggressive shredder, which will make sure to automatically delete any traces from your browsing. Absolutely no data is stored.
The 'Do Not Track' functionality is enabled by default to its fullest extent. Users will have peace on mind knowing this, and that Dolphin Zero never will collect, store or share any of the following information:
Browser History
Form Data
Input Data
Passwords
Cached Data and Files
Favicons
User Address Book
Cookies
Location Information
The prevalence of so-called "ephemeral" messaging services, lead by Snapchat, is booming. And it is definitely here to stay. With Dolphin Zero, we aim to be nothing less than the "Snapchat" of private browsing.
Check it out and download it from Google Play here.