Dolphin Web App Store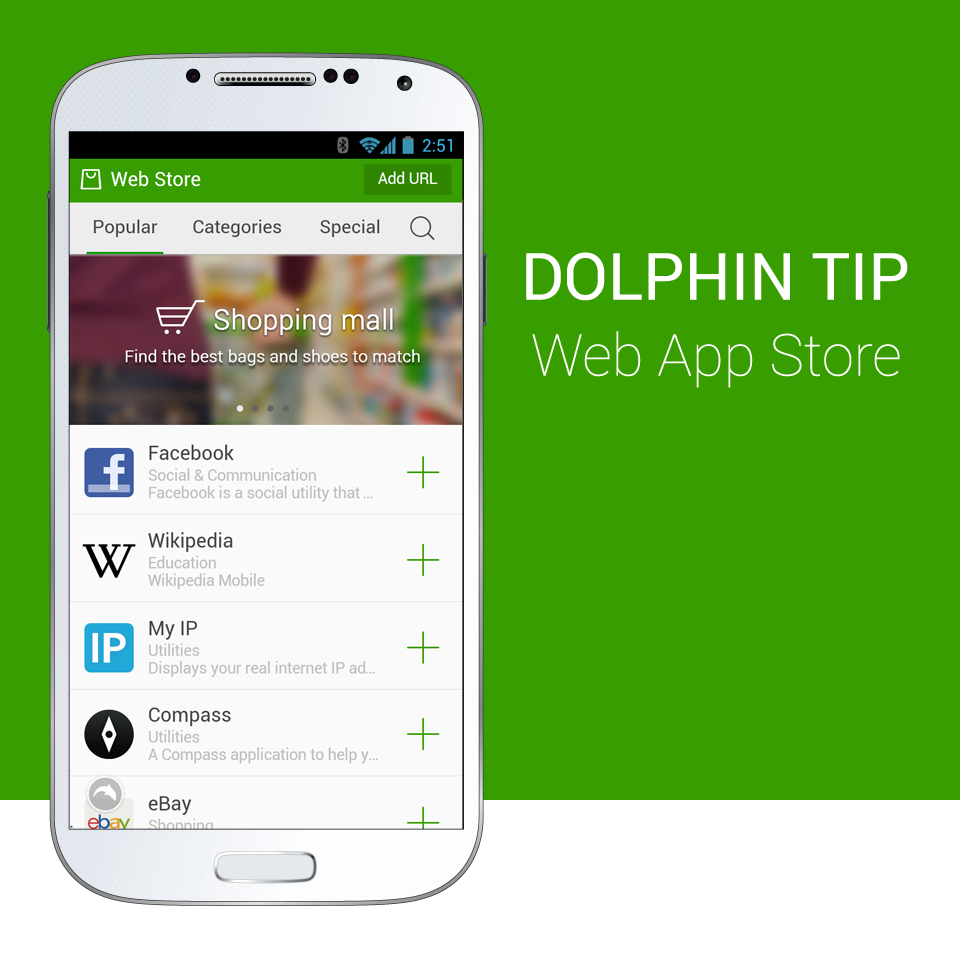 What is a web app?
A mobile web app is an application that runs directly in your web browser. Because it is based on the HTML5 standard, the same app can run both on Android and iOS. Compared to a native app, you don´t have to install a web app, and it would not take up any additional space on your phone. Internet connection is required.
What is the web apps store?
Dolphin web apps store offers access to the most popular web apps, making the browser a one-stop shop that users never have to leave. Choose from over 200 web apps, including Facebook, Twitter, Wikipedia, Amazon and more.
How do I access the web apps store?
1.     Open Dolphin Browser from scratch, or go to Dolphin home screen (open new tab)
2.    Tap the "+/New" button.
How can I add a new web app to my home screen?
1.     Go to the Dolphin web apps store
2.     Find the app you would like to add, and tap the "+" to the right of the logo and name of the app.
How do I remove a web app from my home screen?
From the Dolphin home screen, press and hold on an icon. To delete it, drag it to the bottom of the screen.
There are more than 200 web apps in the Dolphin web apps store. Where did Dolphin find all the web apps?
We worked with our partners like PhoneGap & Trigger.io to find innovative web apps to include in the store. We also scoured the web and reached out to individual HTML5 developers to consider their web apps for inclusion in the Dolphin web apps store.
How can I suggest new apps?
If you are a developer or know of any good web apps, we would like to hear from you! Please feel free to send a request via this form: https://dolphin.com/partner/webapp/