Dolphin HD V6.2 Hits Android Market, Along with Bookmark Sync (Beta)
Dolphin Browser HD v6.2 launches on Android Market today. A very special point of this update is the new Add-on: Bookmark Sync (Beta).
Bookmark Sync is a new Add-on for Dolphin HD, which aims to help users back up and recover bookmarks via Dolphin account. It is especially helpful to users who need transfer bookmarks between different devices or who concern about losing bookmarks in Dolphin. However, currently it is still at beta stage, and only compatible with Dolphin HD v6.2. To download it, please click here or the QR code below.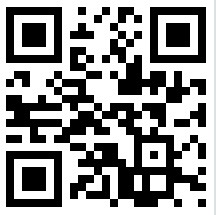 Besides, Dolphin HD v6.2 also includes some other new features and improved performance.
Support Webzine in landscape view.
Share webzine content to your Facebook or Twitter account directly.
Add text size option in Webzine view. We add this option under Webzine Settings. Enter Settings, below you will find Webzine Settings tab where you will be able change text size viewing in Webzine mode.
Remove "Confirm when exiting" from Settings. If you don't want the exit confirm dialog to pop up again, please exit Dolphin by clicking Menu-> Exit
Adjust the accuracy of Gestures
Fix multiple crash bugs in browser and Webzine according to the crash log you sent to us.
To find more stuffs in Dolphin HD v6.2, please download it on Android Market or click the QR code below.