Dolphin HD v5.0 Private Beta Will be Shown at Google IO, Want to Experience the Big Change?
Spotted: Dolphin Browser HD v5.0 will be soon released! And the private beta will be shown at Google IO. Missed the Chance to Attend Google IO this Year? Anyone wants to have a try if you cannot attend Google IO? Let's join this beta campaign, maybe you can win the chance to experience the Private Beta of Dolphin HD v5.0.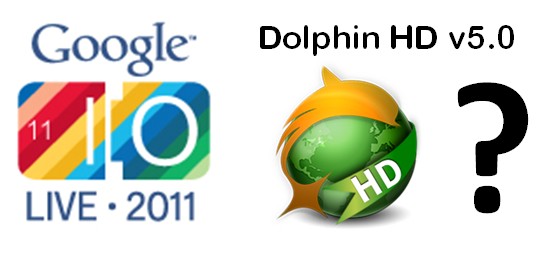 Rules are simple:
Tell us "Why would you be a good Dolphin HD v5.0 beta tester?", using hashtag #dolphinhd5 and should @dolphinbrowser  if you choose leave message on twitter.
According to your reasons, we will pick the most persuasive messages and the corresponding followers or fans to be our beta version testers.
Don't forget to leave your email address to us when you send us the short messages, so that we can contact you directly
We will send you the download link around May 10.
We really have been going a long way from Dolphin Browser HD v4.0 to v4.6.1. Now, Dolphin Browser HD v5.0 is finally coming around the corner! I think you are excited as us, right?  It is completely different from previous versions. And it will definitely overturn your old impression of Dolphin Browser HD. Performance? UI? New features? You can never image how it would be until you try.
Are you curious about how it would be like? Do you want to have a preview? Come and join the beta campaign to have a pre-trial of Dolphin Browser v5.0 beta which will only be shown at Google I/O.
We will announce the winners on Facebook & Twitter. So don't forget to check our update news on Facebook & Twitter. At the same time, thanks to Softpedia, PPCgeeks, AndroidPolice, DroidLife, AndroidGuys to help us hold this campaign in their sites.