[Dolphin HD v4.6 Beta] Batch Editing – Delete Multiple Bookmarks At a Time
Dolphin Browser HD updates to v4.6 beta now. Except fixing bugs as usual, we continue adding acceleration for Android 3.0 devices. However, the most shining point we want to introduce you in this beta version is Bookmarks Batch Mode.
We have received many feedbacks on how to delete bookmarks. And we used to tell you how to delete on specific bookmark and all bookmarks in our Dolphin Mail. For who what to delete one specific bookmark, you can hold on a bookmark in a folder then choose "Delete bookmark" in the context menu. For who want to delete all bookmarks, you can find the option after clicking Menu on bookmark folder page. But now Dolphin HD v4.6 beta enables to delete a batch of bookmarks at a time. That is Batch mode. Now let's have a look at how to use it:
1)       Access bookmark page or choose a folder, then click "Menu", the "Batch mode" is in the bottom menu.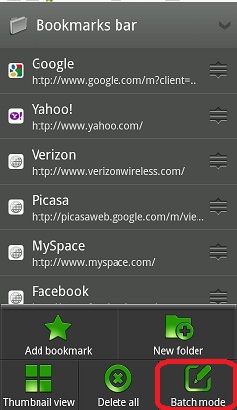 2)       Choose All, all bookmarks in this folder will be selected. Then you can choose to delete or move them all to other bookmarks folder.
3)       If you just want to delete some bookmarks, ticking the little box in the front of each bookmark will be ok.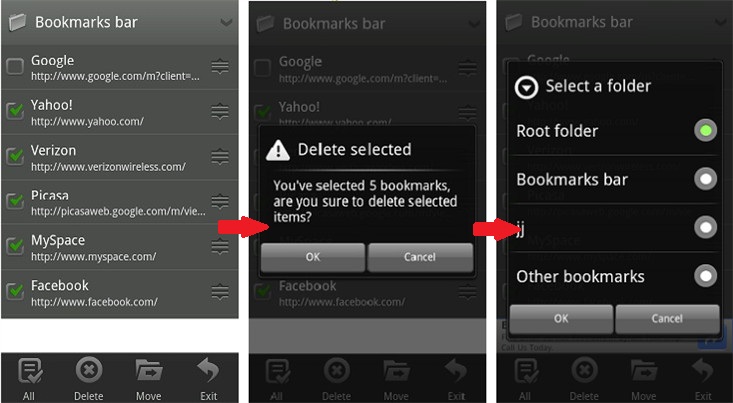 Do you figure out how to use it now? If not, tell us what you don't understand. Or if you have any thoughts about Dolphin HD v4.6 beta, pls let us know. Btw, we will introduce you more features in our final release of Dolphin Browser HD v4.6. Stay tuned!