Dolphin for Browsing Baby Boomers
This year nearly 80 million Baby Boomers in the United States will turn 65. As we all know, as we age, certain things become a little less sharp as they used to be.
This why when Dolphin user Mike Chapman wrote to us asking for larger text sizes to read articles in Webzine, we knew we had to get to work. To facilitate the tech-savvy Baby Boomers, those reading in low light on small screens or even our users plagued with astigmatisms, Dolphin Browser has 3 ways to enlarge browsing text.
Three great ways to enlarge text on Dolphin Browser:
1.     Resizing text within Dolphin: First enter Menu Settings. Below find Page Content Settings and click on "Text size" which ranges from small to large.
2.     Resizing text with Add-ons: Download the Text Sizer Add-on on the Android Market and be able to change the text size with one simple click.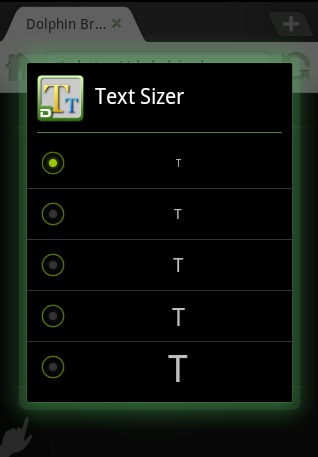 3.     Resizing text with Webzine: For all of avid readers out there not to fear, we have also baked in a text size option right within Webzine. Just click Menu -> Settings. Below in the Webzine Settings scroll down to "Webzine text size."
The Dolphin Browser Team is commited to providing the best mobile browsing experience for all our users, at any age. Happy browsing to all Dolphin Baby Boomers.