Dolphin for Android & Jetpack Update: Smoother Browsing, Added Search Engines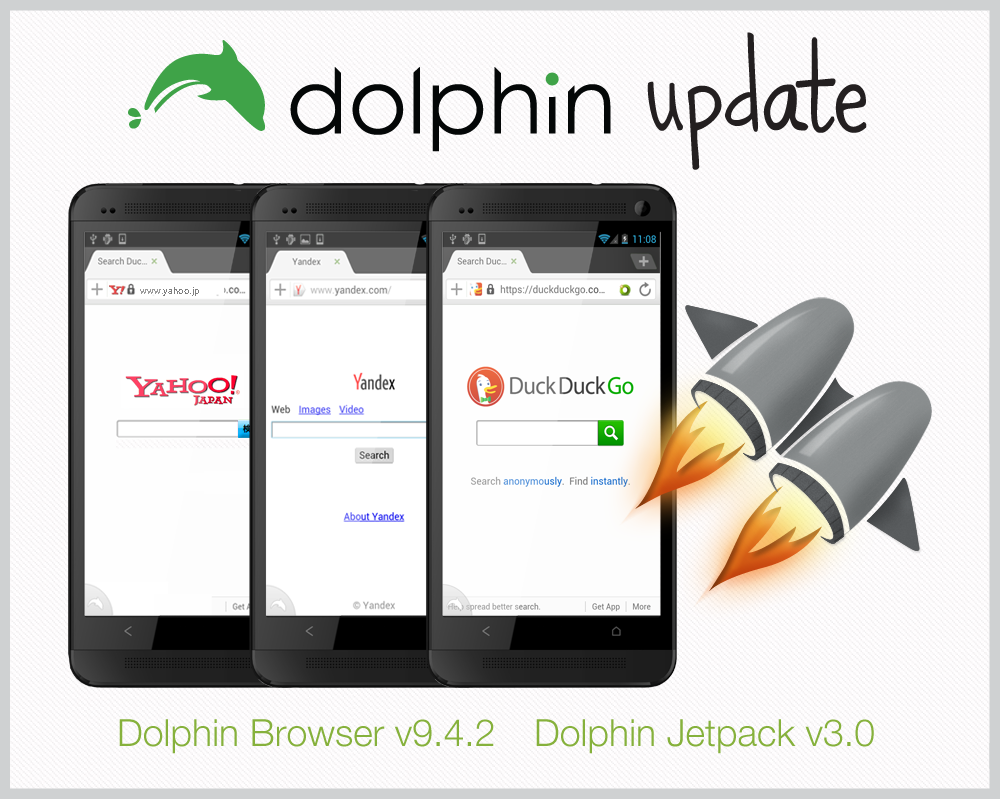 Today, Team Dolphin announced two new updates on Android: Dolphin Browser v9.4.2 and Jetpack v3.0. Here's the skinny:
Dolphin Browser for Android v9.4.2
Dolphin Browser is faster than ever and now supports three new search engine options: DuckDuckGo, Yandex, Yahoo JP. Change your default search engine by going to Menu > More > Settings > Search Engine.
Here's the full list of what's new in this update:
Better support for Dolphin Jetpack 3.0 (see below)
Now supports additional search engine options (Yandex, DuckDuckGo, Yahoo JP) for different countries.
Improved stability
Jetpack v3.0
Dolphin Jetpack is an Add-on that provides extensive canvas/GPU/JavaScript performance enhancements and makes Dolphin Browser the highest performing HTML5 browser according to a the top benchmark tests.
The new stuff in this update includes:
The APK has gone from 13MB to 5.6MB, so it takes up less space on your phone.
Optimization of web page loading time.
Auto-enlarging of main content of an article or blog so you don't have to enlarge it manually.
In desktop mode, you can now double tap to auto-fit the screen to the site content.
Bug fixes and improved stability make for a smoother browsing experience.