Dolphin Fan Shout-Out: Rei Aikawa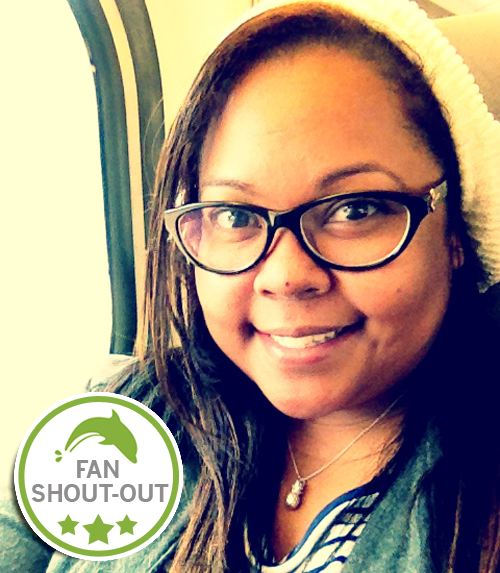 Hey Dolphin Fans,
We recently connected with Dolphin super fan Rei Aikawa to learn what she loves so much about Dolphin Browser. From apartment hunting in San Francisco to traveling overseas, Rei uses her "Honey" to get where she's going.
How did this love affair start?
Rei: "I travel overseas a lot. I try to find things on the fly, and Dolphin was the first browser that actually understood me. When I speak to Siri, she doesn't know what I'm talking about. So I fell in love immediately with Dolphin."
What is the best thing about Dolphin?
Rei: "Sonar is my favorite feature. I'm from Hawaii, and I had a bit of an accent when I moved to California. Siri just couldn't get over that."

"I love that I can talk to Dolphin and 99% of the time Sonar knows exactly what I want."
Anything specific?
Rei: "When I go grocery shopping …. I don't really know ahead of time what I need. So Sonar is the easiest thing for me because I can just ask it. It'll find the recipe with all the ingredients… Sonar is like my own personal assistant."
Since you refer to Sonar as your personal assistant, does she have a nickname?
Rei: "When I shake it and it finds things right away, I say, "Oh, good job, Honey."

"It's funny that you asked me that. I think only my boyfriend and maybe a couple other friends know. Most people think I'm talking to someone on the phone when I speak to Sonar."
What was your ah-ha moment that got your hooked onto Dolphin?
Rei: "When I first started using it, I happened to be out and I missed my bus and needed a cab.

Before Dolphin, I would have had to launch Safari and type 'San Francisco cab services' or something and then look through a few reviews. I was in a bind and decided to use Dolphin… and it pulled up a few services like Uber and Cabulous. It was awesome!"

"I was thinking to myself: this is like the future. I have Safari, I have the Google browser, but Dolphin is my go-to browser now."
Alright we gotta ask. Android or iOS?
Rei: "I have an iPhone. It's attached to me, but the Android Dolphin Browser is a little more pimped out than the iOS version, so I'm a bit jealous.

With the Android version I wouldn't have to have all these different apps. I could have Dolphin, and it would have everything."

"I'm seriously thinking about switching my phone—that's how great I think the Dolphin Andriod version is."
Are you a Dolphin super fan? Do you have a story that deserves a shout-out? If so, we want to hear from you. Contact me at alex@mobotap.com!
Thank you for your time, Rei!
-Team Dolphin
And don't forget to join the conversation on Facebook and Twitter.