Dolphin Browser (original) New Beta Version, Now with Less Bugs
Thanks for all your feedbacks to Dolphin Browser HD v4.0. We are so glad that we made a progress on it according to your enormous feedbacks. While on the contrary, we still have some room for improvement. And we will never stop moving forward.
After the improvement of Dolphin Browser HD, we bring out the upgrade version of Dolphin Browser – the original one made by Dolphin Team. We have been collected your feedbacks and logs this period of time. In accordance with these feedbacks, we sort out some problems and bugs and fix most of them.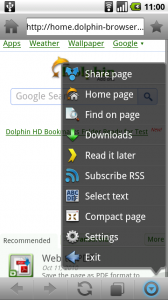 What we have done in this new beta version:
Force close issue with fan menu
Force close issue with adding bookmarks
Force close issue when you clear location access
Blank page of the Windows
Hurry up and try it now and feel free to let us know how it works for you in the comments.