Dolphin Browser Mini V1.0 is Now Officially Launched in Android Market!
We are incredibly excited to offer you Dolphin Browser Mini V1.0!
Now Dolphin Browser Mini V1.0 is available in Android Market. In this major update, we bring you a new set of features to expand and refine your browsing experience.  Several of these features are from among of the most requested features we have heard from you, our users.  Thank you for your valuable suggestions, thoughts, and ideas.  Please keep the excellent feedback coming.  We can't wait to hear what you think about this new release.
If you want to know what is the difference between dolphin apps, pls refer to this post.
What's in this new release, you may ask?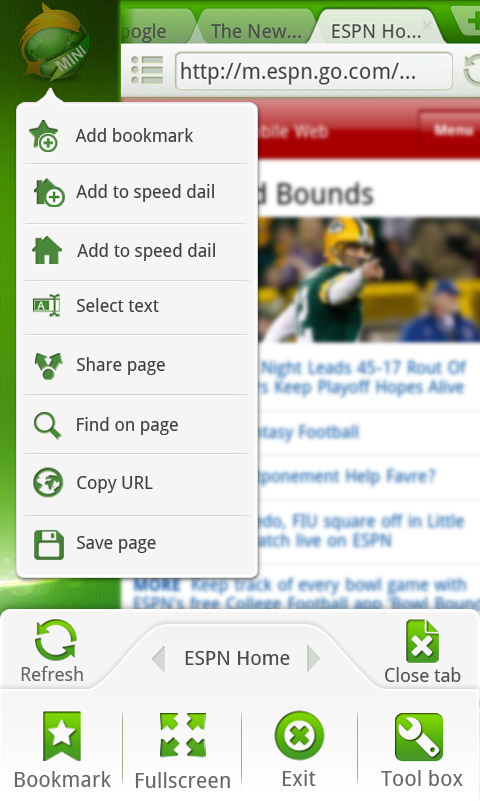 We've made several improvements to Dolphin Mini's interface by refining the menu style and toolbox design, changing the tab menu location( now beside address bar ), etc.
We add Data backup and restore feature(in toolbox) in case that losing relevant data when you reset your phone or uninstall our app.
We add quick access to clean data ( in toolbox ) and simplify the layout of dolphin settings.
We add Bookmarks Label. Now you can label each bookmark and see all the bookmarks that have a certain label.
We add flash plugin and remain "on demand" option as default. If you want the flash on website to load directly, you can set the option remain "always on".
Press and hold the address bar, and you get a pop-up of useful options — "Add Bookmark," "Select Text," "Copy URL," "Share," "Save Page." Here we add another option "paste".
If you want to know the basic features of Dolphin Browser Mini, pls refer to this post.
Please let us know what your think of the latest edition of Dolphin Browser Mini.
You can send us feedback and suggestions via twitter @dolphinbrowser and on our Facebook Page.  If you have any technical issues, please contact us via support@dolphin-browser.com.  We can't wait to hear your reaction and to begin collecting suggestions for the next round of development.  We hope you love this update as much as we do. See demo video here.