Dolphin Browser launches v5.0 for iPad: Less Typing and More Doing
Today we released the latest version for your iPad v5.0.
Ok you know we are working hard improving Dolphin but what is really different about this update? Dolphin got even smarter! Check out the changes:
 1.  Dolphin remembers your account and password.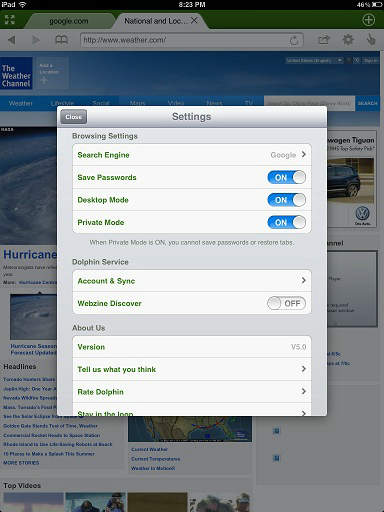 Do you use Facebook, Twitter, Instagram and Pinterest on your mobile browser? Now you don't have to manually input your account name and password each time when you log in.
1) Turn on Save Password option in Settings
2) Dolphin will ask you whether you want to remember password for your current page.
3) Choose Yes
4) Next time no need to fill in anything.
1) Don't want Dolphin to save your passwords any more? Clear password data
directly in Clear Data> Clear Passwords
2) Browsing in private mode – Dolphin doesn't even think of saving those
passwords.
 2. Dolphin Connects you easier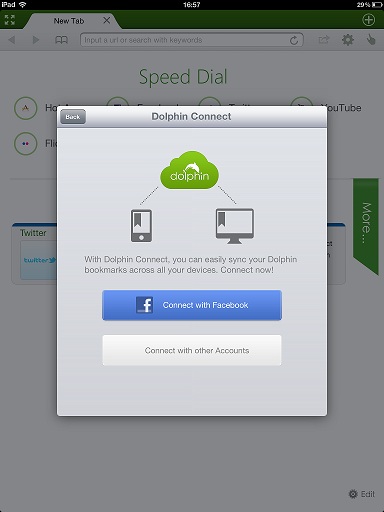 This with the latest design of Dolphin Connect, you can more easily sync your bookmarks across all your devices.
By directly connecting Dolphin to a 3rd party account, you'll be directed to a separate page, where you can choose to sync automatically or manually. Connection is now easier than ever!
Download Dolphin v5.0 on your iPad today!
Dolphin never learns without your suggestions so, as always, we love your feedback at support@dolphin-browser.com. We also welcome you to join our community on Facebook and Twitter.
– Team Dolphin