Dolphin Browser: Improved Usability Design on iPhone
Hey Dolphin fans! In case you didn't notice, iPhone is kinda a big deal. In 2011:
Total number of iPhones shipped is a whopping 140 million*
In 2011 the iPhone made 47 billion dollars in revenue (40% of total apple revenue)*
Apple has the most smart phone users under 44**
That's why we wanted to further polish up Dolphin Browser on iPhone and keep it fresh for our iOS users.
More than a little update, this new version has an entirely new look, feel and experience. So here is a brief look at the big changes.
Swipe Right for Open Tabs:  Quickly swipe right to access all open webpages. Works even better with a smaller screen with the tabs on the right Sidebar.
Search Bar right on Home Screen: You could search in the URL bar, but why not try the sleek new search bar right above Speed Dial?
Speed Dial goes Circular: Sometimes thinking outside the box really means go circular. You can jump to speed dial's colorful circular buttons and background by clicking the home button at top right.
Reformatted Bookmarks Bar: Sync/edit/delete and add new bookmarks by swiping left.
Expanded Menu Bar with Settings on Bottom: All page and setting options can be accessed by clicking the menu icon to the right of the Dolphin button on bottom menu bar.
Access Sonar and Gesture with the Dolphin Button: Toggle quickly between Dolphin's two signature features.
Link options: Open page in background, save link to downloads or copy URL by long-pressing a hyperlink in a webpage.
Celebrate with Us!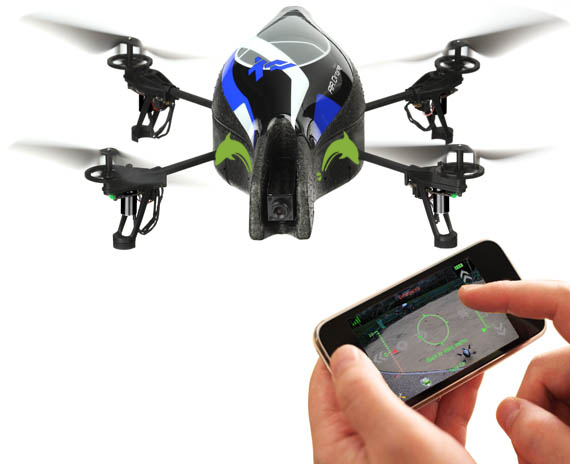 We want you to help celebrate Dolphin's sleek new design by flying high with Dolphin. Enter for a chance to win a camera-equipped quadricopter (the Parrot AR.Drone) exclusively for our Dolphin fans.
It's simple, all you have to do is:
Follow @dolphinbrowser
Click here and tweet one reason why you love flying with Dolphin.
Don't forget to be creative! We will be picking the best tweet based on creativity. So snap a photo, write a poem, quote your favorite phrase and tell us why Dolphin rocks!
 That's it! Contest will end Tuesday September 4th.
Check out the insiders guide to navigating new features. 
What's what.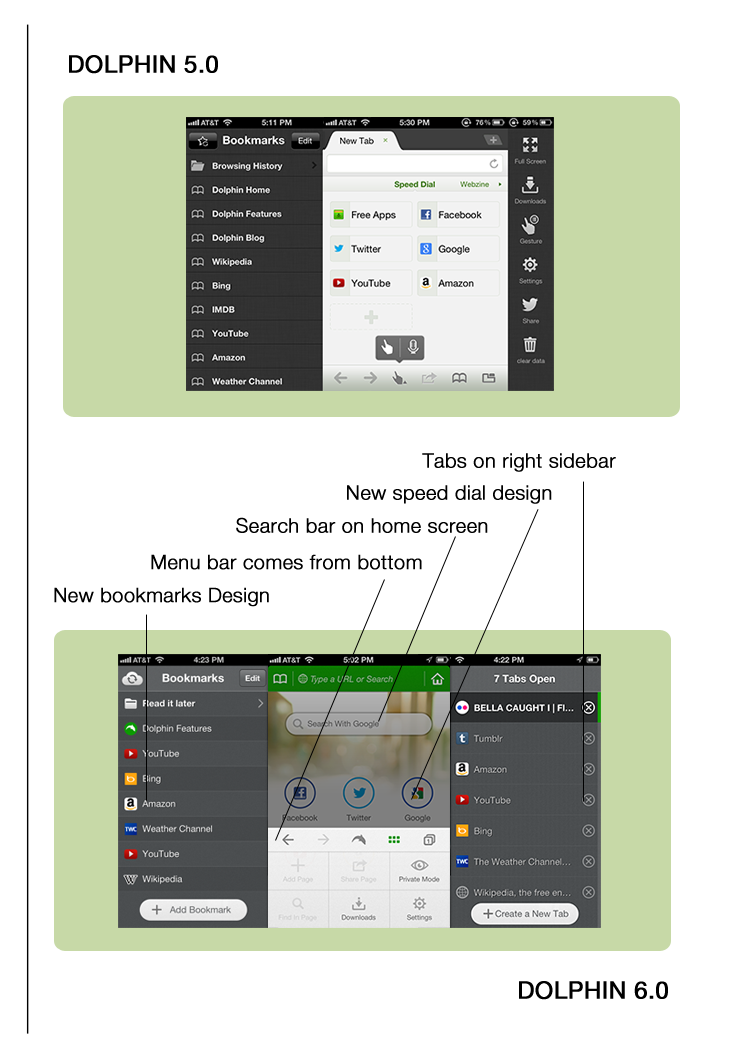 SPEED DIAL: How do I add to my speed dial?
Now without the "+" button on the speed dial, you can add to home screen by:
Open a webpage
Click the menu button at bottom
Click "Add Page" button
Choose "Add to Speed Dial" option
TABS: How do I create a new tab?
Check out the differences of our new tab system.
Access tab bar by clicking bottom window button or slide your screen to the right.
View entire tab title and forget about mixing up open tabs.
Delete unwanted tabs without having to reload the page
Add new tabs by tapping "Create a New Tab" button
BOOKMARKS BAR: How to manage bookmarks in Dolphin?
To sync your bookmark data: Click the cloud-shaped button.
To edit bookmark: Click "Edit" button.
To add a new bookmark: Click "Add Bookmark" button.
To delete a bookmark: Slide left on a single item and then click "Delete".
MENU BUTTON: If the left bar is Bookmarks, right bar is Tab. Where are my settings?
Tap the menu button to the right of Dolphin button to:
Add Page: Add page to bookmarks, speed dial or create a Gesture.
Share Page: Share on Facebook, Twitter or via email.
Private Mode: Private browsing does not save browsing history
Find in Page: Search for a word of phrase
Downloads: A list of all downloaded files
Settings: All er…settings : )
SONAR AND GESTURE ACCESS: How do I use Gesture & Sonar with the new design?

Click the Dolphin button to access Gesture and Sonar with a new clean white background and a toggle button to switch quickly.
Click Dolphin button on menu bar
Slide toggle to switch from Gesture to Dolphin Sonar
Click gear-shaped button to enter Gesture/Sonar Settings or get more help
Download the spiffiest version of Dolphin yet now!
So now you know how different it is, try it out and tell us what you think!
Do you like the changes, why or why not? Let us know in the comments below or feel free to send your feedback to us at support@dolphin-browser.com on our Facebook and/or Twitter.
Go get em'
Team Dolphin