May 28, 2011 @ 9:04 am | Category:
Product Releases
| Tagged as:
Android 3.0
,
Beta
,
Bookmarks
,
Bookmarks folder
,
Bookmarks to SD
,
bug
,
Dolphin Browser HD
,
Events
,
import bookmarks
,
Interface
,
Multi-language
,
page loading
,
Performance
,
quick menu
,
setup wizard
,
tab bar
,
Theme
Dolphin Browser HD v5.0 Beta3: A Preview Of the Final Release
Thanks for all your feedbacks to Dolphin Browser HD v5.0 beta1 & beta2, Dolphin Browser HD v5.0 beta3 is publishing today. Beta3 continues focusing on UI detail changes and performance improvement. Themes and Multi-languages also get updated in Beta3. Thanks for all your enthusiastic responses once I have asked in our Facebook & Twitter, I can't help to mention that there are only 6 languages (Czech, Danish, Japanese, Spanish,Turkish, Traditional Chinese. Anyone who can help review it?) are ready: German, Portuguese, Italian, Korean, Russian, French, Polish, and Simplified Chinese are not completed yet.  Anyone would like to help us to complete them we would be grateful for that, please contact us: support@dolphin-browser.com. So that we can provide a complete Dolphin Browser HD 5.0 for you this time.
Back to the points, below are the general changes in Dolphin Browser HD Beta3:
Some minor UI changes.
New look of tab bar: change the fresh green color to a more soft green color, replace the green edge to dark grey.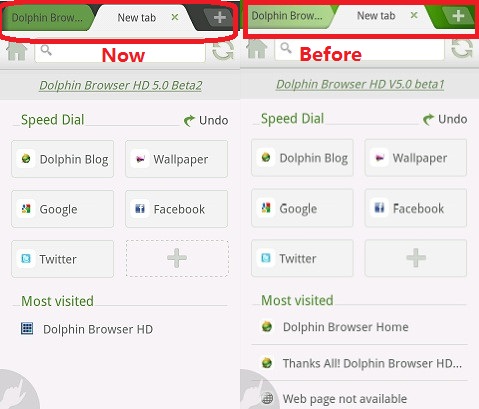 More powerful bookmarks feature.
Support importing bookmarks from original Dolphin Browser and stock browser without using Bookmarks to SD. Moreover, for Android 3.0 devices, bookmarks sub-folders syncing is also supported in beta3.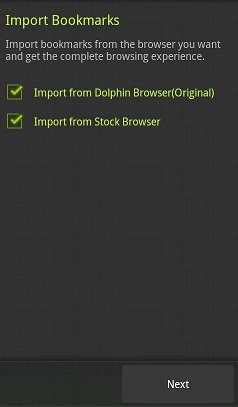 Improved performance
Easier and faster first launching step. Beta3 omits complicated setup wizard when firstly installing Dolphin Browser HD. However, if you still want to go through setup wizard, you can choose the option in settings: Menu-> More-> Settings-> Setup Wizard. On the other hand,  more bugs are fixed in Beta3, such as the loading bar keeps loading issue.
Updated Themes & ADD-ons
Four add-ons: Speed Dial, Alexa Rank, Shiny Shake and Screen Cut are updated in Beta3. Also,  Blue, Orange, Red and Purple themes will also be updated along with the final release of Dolphin Browser HD v5.0. They will be more elegant and more florid. But currently, only blue theme is available in Beta3. If you want to download it, please click the image below: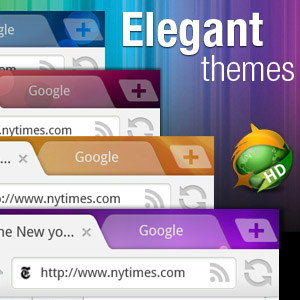 This would be the last beta version before we release Dolphin Browser HD v5.0 to Android Market.  Therefore, we sincerely hope you can provide us as many feedbacks as you can. Please help us to complete this little survey after trying out Dolphin HD v5.0 beta3: 

We look forward to presenting you a better Dolphin Browser HD v5.0 in the final release.
To download Dolphin HD v5.o beta3, please scan or click the QR code below: