May 20, 2011 @ 6:09 am | Category:
Product Releases
| Tagged as:
add bookmark
,
Beta
,
bookmarks side bar
,
Dolphin Browser HD
,
Events
,
feedback
,
Interface
,
Performance
,
quick menu
,
settings
Dolphin Browser HD v5.0 Beta2, Better Than Beta1?
Have you tried Dolphin Browser HD v5.0 beta1? Are you satisfied with it? If not, please take a look at Dolphin Browser HD v5.0 beta2.
Maybe you will confuse why we publish two beta versions. As we have emphasized before, Dolphin Browser HD v5.0 is a big change both to us and Dolphin Browser. We sincerely hope that we can make it as good as we can. So we won't release it to Android Market until we are 100% sure that it is good and stable enough. Hope you will understand us. And there is another thing that we need your attention: hope you can give us more feedbacks on new UI design. Although many of you have downloaded beta1, it is a pity that few of you have sent feedbacks to us. We really need to hear more voice from you. We need your feedback to make Dolphin Browser HD v5.0 to better.
According to your feedbacks on beta1, Dolphin Browser HD v5.0 beta2 keeps on optimizing UI and performance. The change logs are as follows:
Brand new design of Bookmark side bar: move add bookmarks button and search button from top to bottom; change Quick Menu Display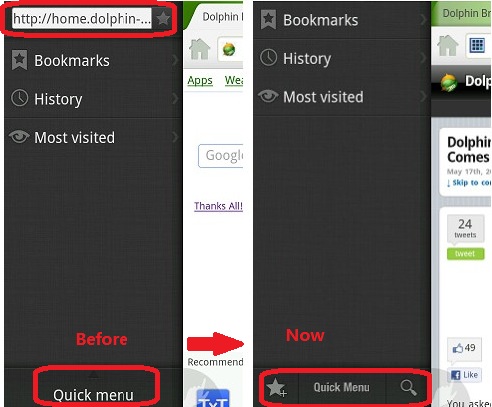 Change items in Quick Menu: remove Downloads, and change to Settings.
Fix bugs occurred in beta1: crash when using manage space to clear data; visiting pages via Most visited section in new tab does not work, and etc.
Is beta2 better than beta1? Do you like the new interface of Settings? Please feel free to send us your feedback to our support email address: support@dolphin-browser.com. Or you prefer to talk to us on Twitter & Facebook? Either way is welcomed. We like to hear from you. Also, we attach the questionnaire in this post again. We sincerely hope you can help us complete this short survey while downloading the new beta version. A better Dolphin Browser HD v5.0 all depends on your feedback.

Thanks for your cooperation again. 🙂
Below is the new beta download QR code: