April 16, 2011 @ 6:27 am | Category:
Product Releases
| Tagged as:
batch mode
,
Bookmarks
,
Dolphin Browser HD
,
gesutre
,
Interface
,
long press
,
menu
,
new tab
,
open links
,
settings
Dolphin Browser HD v4.6 – Be a More User-Friendly Browser – Now in Android Market
Dolphin Browser HD v4.6 updates to Android Market now. In Dolphin Browser HD v4.6 beta, we highly recommended Batch mode: deleting  or moving multiple bookmarks at a time. If you want to know more, you can check this post. Also, in this final released version, there are other minor changes you can find.
1) Gesture Store. In Dolphin HD v4.6, we bring in the concept of "gesture store". More actions now can be completed by gestures.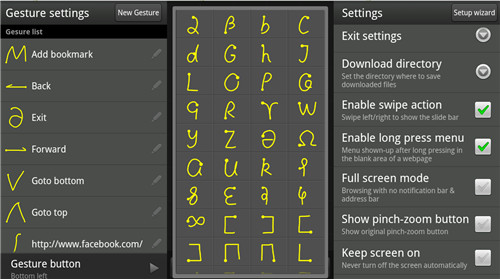 2) Enable/ disable long press menu. We have added this feature in Dolphin HD since v4.5 update. Some of you say that it is unnecessary. But we believe for others it is really convenient to use. So in Dolphin HD v4.6, we add a setting for you to enable or disable this menu.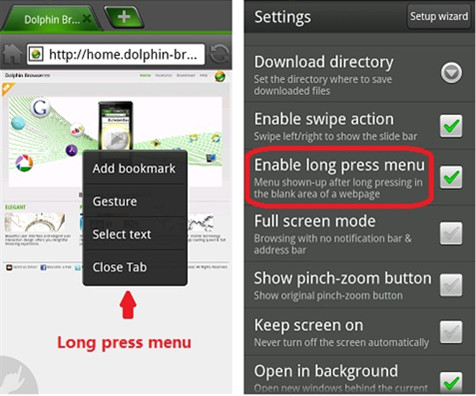 3) Open a url link in a new tab by default. Although we already have the function to open a url link in a new tab by holding on it and choosing "Open in new window" option in context menu, it is not easily to notice this action for some users. And for others who always prefer to open links in new tabs, to hold on each time is also very annoying. So now, we add Open in new tab feature in settings. Once choose it, all links will be opened in news by default.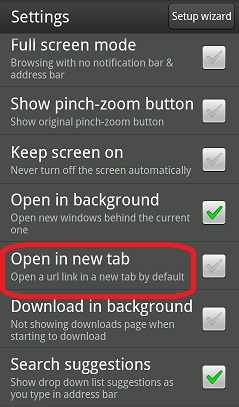 Also, there are some minor UI changes in this new version. So the best way to know whether it is better or worse is to download and experience it by yourself. And don't forget to send us your feedbacks. 🙂