Dolphin Browser HD v4.0 Finally Released to Android Market!
It has been a relatively long time since we published the Dolphin Browser HD v3.0. Sorry to keep you waiting since there are so many problems in V3.0, like the swipe action issue, drag down window issue and many more. Still many of our users are suffering the bad user experience. Deeply Sorry!  Now it is time to get rid of this suffering. We just update the newest Dolphin Browser HD V4.0 to Android Market. You can get it from Market now!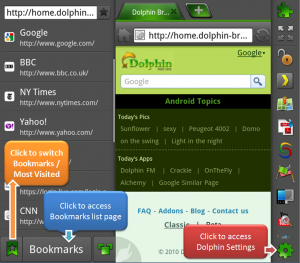 Quick preview to note:
Fix some tiny bugs which are supported by you.
Try it out and tell us what you think!
If you cannot download it from Android Market, you can click here to get Dolphin Browser HD v4.0 version.
Thanks to all who have provided feedback and pointed out bugs. So please continue to express your feeling about the new version. We hope you'll give this a try and leave your comments here or send your feedback to us.