Let's Check in! Dolphin Browser HD V4.0 Beta3 Available Now!
First off, a big thanks to all of you that lend us a helping hand in response to our translation requests. Maybe each time we just replied with Thanks, while in fact, appreciation is a kind of emotion more than we can say.
We've been on a roll lately with Dolphin Browser HD v4.0. Three weeks ago we announced the release of Dolphin HD v4.0 beta1 by fixing the drag down window issues. Ten days ago we announced bookmarks folder support for Dolphin HD v4.0 beta2. Today we are happy to announce that you can check-in dolphin and find surprises in Mobosquare.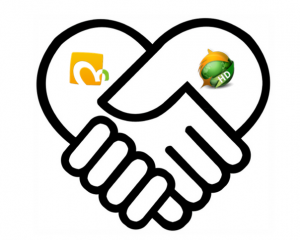 This is second important tentative cooperation between Dolphin and 3rd party after the cooperation with Lastpass. While cooperation with lastpass is so pleasant, we hope this time we will have a cordial working relationship.
What is Mobosquare?

MoboSquare is an Android complementary app market featuring a clean and social environment. It also provides you an easy access to new hot apps and a fun App Based Social Network.

Badge privileges and Mayor specials provider. Mobosquare allows you mingle with other Taplers based on the topic of favorite applications. Meanwhile MoboSquare will award you credits and badges based on your involvement.  You will have a lot of fun and extra benefits networking in MoboSquare.

New Hot App & Game Digger

Better app popularity ranking helps you discover hot apps and fun games, especially those hard-to-find new ones and skip over undesirable spam apps. Also, Well-selected Appacks and Gamepacks are available and feature one-click batch install.

Safe & Clean Market Environment

Warn about viruses and malware. All applications and games are scanned for security concern. We provide applications and games with No virus, No malware and No spam.

If you want to get more info about Mobosquare, you can visit their official site.



So when it comes to the this new beta version, we just add a "check-in" in Dolphin for Mobosquare. When you click "check-in", you will get credit in Mobosquare. The more credit you get, the more chance of receiving gifts you can get. Check in, follow your friends and become the mayor of your favorite apps.
Moreover, we add 10 new languages which are ready, and a few other languages will be added in Dolphin v4.0 final version. Any other languages (system supported) if you want to add or you want to translate it for us, pls 
contact us
.
Try it out and tell us what you think!