Dolphin Garage Event #2 with Tim Lee from Sequoia
We just want to say thank you for making the Dolphin Garage Event with Tim Lee such a wonderful experience last Thursday. You guys were awesomely attentive, brought up perfect questions, and braved the heat. You all rock!
The Dolphin team was absolutely honored to host Tim Lee, as well as all of you inspiring developers and entrepreneurs. We hope to see many of you soon on our Dolphin Garage dev portal, where you can show off those development skills and bring your app to Dolphin's 16 million users.
You can check out image of the event (and tag yourself) on our Facebook.
Missed it? No worries, here are a couple of take home quotes from Tim Lee: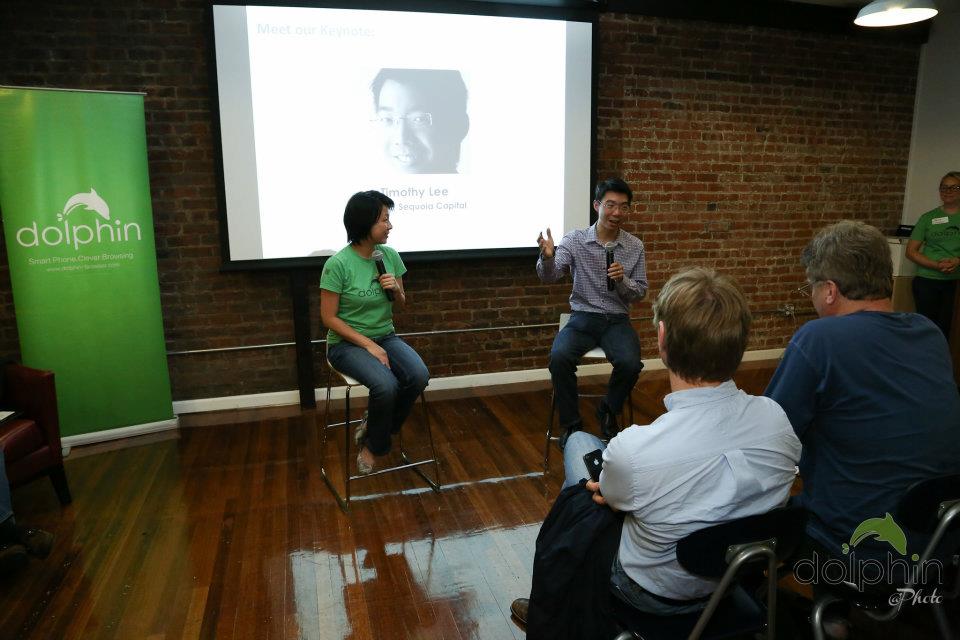 "We love the dolphin browser. Being able to browse with Gestures and control in the device, Dolphin uses it all. It's very creative."
"We are just getting going with the mobile trend"
Q (Edith Yeung: Dolphin Browser Head of Marketing) What about the Bubble?

A (Tim Lee, partner at Sequoia Capital): "If you are creating something that is truly differentiated then it doesn't matter where we are in the economic cycle"

DOs and DONTs: 

"Many companies think they can take their web product to the mobile. You can't. This creates a huge amount of room in the startup community"

Q: When investing, do you look at the idea or the people? 

 "You can't have one without the other." Take for example the founder of Admob. Had a couple of mobile apps and was trying to figure out how to get distribution. He understood the problem as a developer better than anyone else."

Q: What do you need to consider before starting a mobile company? 

"The first thing is to see if you want to spend the next 2 years of your life on this"

Tips for Developing on Mobile:

"Think about it from a mobile centered design perspective. Start with the mobile device."

Q: How can I gauge whether this will be successful? 

[Measure] "The users you have after the one month drop off then, after that point, you know what users are here to stay."

Q: What distinguishes a mobile business to just an application that out there?:  

"What you need to think about are aspects of monetization and are people engaging with what you are building in a meaningful way. One simple way to boil it down, daily /weekly active user."
You can also check out the images on Flickr.
Hope to see you next time,
Team Dolphin