Dolphin Browser for iPhone v6.1: iPhone 5 Compatible, Tabs on Top and Even More to Sync
iPhone 5 eat your heart out, Dolphin is back in full force. Check out our latest features including optimization for iPhone 5.
Never one to read the instructions? Get it now, read later!
Although we are not always be right (someone had to say it), we do pride ourselves on being a reactive to our users concerns. So in the version you will see that the reemergence of tab bars on the top, iPhone 5 support and the best sync to date!
So, let's take a quick look at what we have in Dolphin Browser for iPhone v6.1.
 iPhone 5 support
You got a bigger screen, we got a bigger Dolphin. Not only have we made sure Dolphin fits just right, we have also added another layer of speed dial slots.
Choose your own Tabs: Classic top tab mode or right sidebar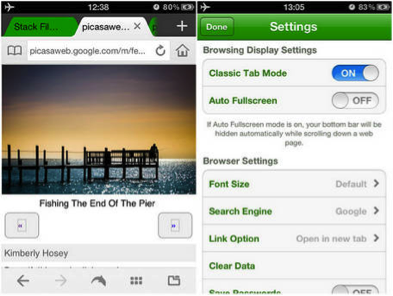 Sometimes tabs just belong on the top, like filing cabinets, desktop browsers and perhaps Dolphin. So back by popular demand, our classic tabs on top mode.
How to enable Class Tab Mode?
Click menu button in the bottom menu Bar
Go to Settings
Turn on Classic Tab Mode
That's it! 
OK so how does it work? 
Once you choose "Classic Tab Mode," the window button in bottom menu bar will turn into fullscreen button. Just click it to hide tab bar and address bar.
Keep in mind that while on "Classic Tab Mode," you will not be able to slide out the right side tab bar.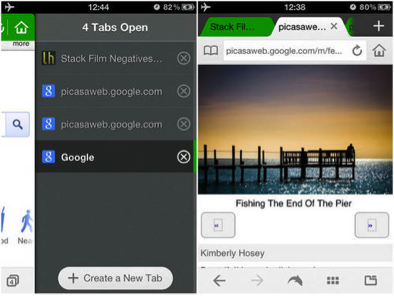 Dolphin Connect: Now Sync your tabs and history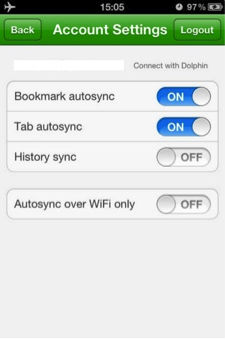 Dolphin Connect just got better! Look at this array of sync options across your different Dolphin devices.
Tab Sync
History Sync
Bookmarks Sync
How to sync tabs, history and bookmarks with Dolphin Connect?
Login Dolphin Connect with your Facebook account or Google account under Dolphin Settings > Account & Sync
Turn on Bookmark autosync/tab autosync/history snyc
Go to Bookmarks Bar and then click the "cloud-shaped" button
Looking for synced tabs? Under bookmarks bar > other devices
Consider yourself synced!
Things to note:
History won't be synced if Dolphin Browser on either device has private mode enabled.
If you close tabs or delete history on one device, it will not erase it on the other device without clicking the cloud-shaped button on both devices.
Other Improvements: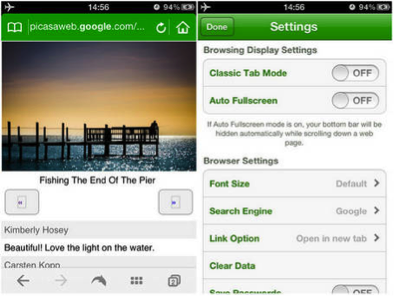 Auto Fullscreen: Give you the maximum reading space on iPhone
Everyone want a bigger screen so today we unveil auto fullscreen which hides all toolbars when you scroll up.
 How?

Click menu button in bottom bar
Go to settings
Turn on "auto fullscreen"
How do I get it back?  Bring back the bottom bar out by scrolling down on screen. : )
Share: Share everything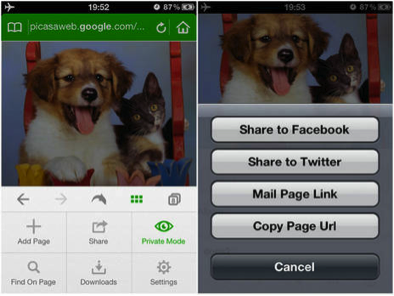 We know you are versatile so not the share button not only goes to Facebook or Twitter but also email and gives you the option to copy the page link.
Phew, and besides all of that we have also made various stability improvements. Curious?
Download it now and try it out!
As always, we love to hearing your feedback at support@dolphin-browser.com or keep us posted on Facebook or Twitter.
Team Dolphin