September 12, 2011 @ 9:29 am | Category:
iPad
,
Product Releases
| Tagged as:
Apple
,
Dolphin Browser for iPad
,
Dolphin Browser HD
,
Gesture
,
iOS
,
iOS Browser
,
iPad
,
SideBar
,
Speed dial
,
Tab
,
Webzine
Dolphin Brings Clever Browsing to the iPad
Dolphin is now available on the iPad!
Since the release of Dolphin for iPhone, we know you have been chomping at the bit for the iPad version and so today we are very excited to announce the release of Dolphin for iPad! Let's check out what the iPad version looks like!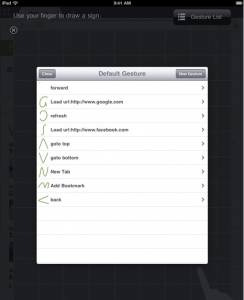 1. Gesture Browsing
From drawing a "T" to bring up Twitter and "F" for Facebook, iPad users can now train your very own Dolphin and create any Gesture they want.
2. Dolphin Webzine
With Dolphin Webzine, Dolphin brings the elegance of a magazine to website content. In Webzine, iPad users can access articles on their favorite website by scrolling down the page, or by swiping right or left. Then simply "tap" to open the full article in an elegant format. From Techcrunch to Cosmopolitan, Webzine brings the elegance back to reading on the web.
3. Speed Dial
Visit you favorite sites on the go with one touch. No need to type out long URLs on the iPad's keyboard—simply input your favorite sites on Speed Dial and access them with one click.
4. Tabbed browsing
Dolphin was the first mobile browser to support multiple tabs. No need to toggle in and out of screens, tabbed browsing lets you open and switch between pages with ease.
5. Left and Right SideBars
Dolphin removes the inconvenience of a small screen with multiple SideBars, enabling a larger more comprehensive browsing experience. Swipe to the right and quickly launch the tablbar. Swipe to the left and browse your bookmarks list, browsing history and folders.
Download Dolphin Browser for iPad now!