Dolphin Bookmarks Folder is Coming! – Come and Taste Dolphin Browser HD v4.0 Beta2
It has been one third of month since we published Dolphin Browser HD v4.0 Beta1 version here. We promise that we will bring you Bookmarks Folder in the previous posts. Here we are glad to announce that you can enjoy it now – Bookmarks Folders in Dolphin Browser HD v4.0 Beta2.
Add Bookmarks Folder Support
How to add a folder for bookmarks?
First, after you launching Dolphin Browser HD, pls tap Menu->Bookmarks (in dolphin menu)->Bookmarks (in side bar), then you will access Dolphin Bookmarks list page and you will see the folders. Second, pls tap Menu ->New folder->enter the name you want, done.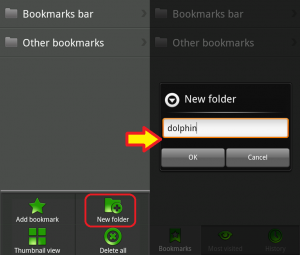 How to delete or edit a bookmarks folder?
It is very simple, just like to delete a single bookmarks in Dolphin: after you access the bookmarks list page (Folder page), long press the folder you want to delete or edit, Dolphin will show you a menu, choose the right one you want.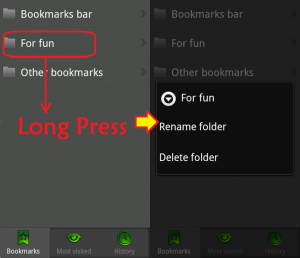 How to add a existing bookmark to another folder?
Method one: drag the bookmarks to the new folder.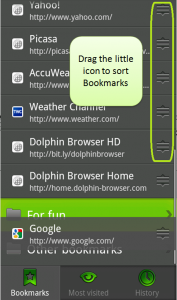 Method two: edit the bookmarks and choose new folder.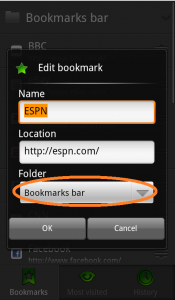 UI Upgrade: Address Bar & Bookmarks Side Bar & Add-on Toolbar
Upgrade in Address bar: change

Refresh button

into Star-shaped button (Add as Bookmarks).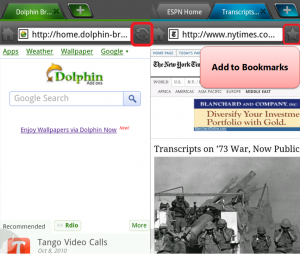 Change in Add-on tool bar: move

Add-on button

to the top, and add a Gear-shaped button for Dolphin Settings.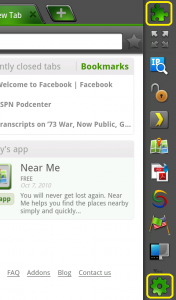 Change in Bookmarks side bar: simplify the interface of bookmarks side bar.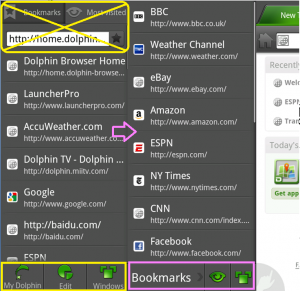 Tips: You can click the Bookmarks to enter bookmarks list page, there you can add bookmarks folder, edit bookmarks, etc.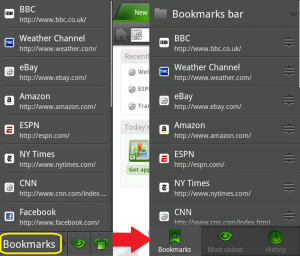 Tips: You can click the Most visited to enter Most visited page.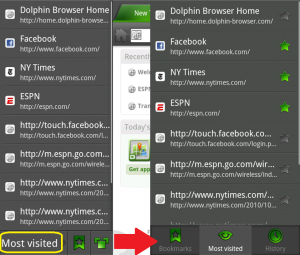 Since it is not the final version of Dolphin Browser HD v4.0, we will continue to upgrade it: maybe in user interface, and performance, and lots more. If you're interested in understanding more deeply how it works, hurry up and get it installed in your phone. What do you think? We'd love to hear your comments and feedback.