Do You Hear What I Hear? Yes, Dolphin Goes Business with Box.
Ever find something great while browsing on your Android but just don't have the time (or patience) to view it on that itty-bitty screen? Maybe you've found the perfect Christmas gift and want buy it later or maybe it's just an the latest funny video too embarrassing to view in public.
If you're like us, we run into these issues on a daily basis. That's why we reached out to Box and bring you newest Android Add-on, Box for Dolphin.
How it works:
Step 1:
You're browsing Huffington Post on Dolphin and notice the new Marcel the Shell video is out. You just love that cute little shell (with shoes on) and have to watch it, but you're on the bus and you know you're going to burst into laughter at his first words. You decide your house is a better venue for your Marcel the Shell viewing habit.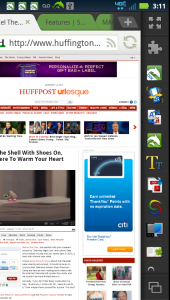 Step 2:
Click on the new Box for Dolphin Add-on on the right sidebar and save the link to the cloud for later.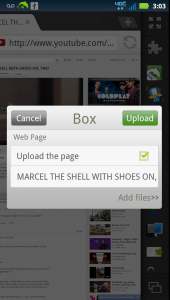 Step 3:
Go home, silo yourself in your room, open your Box account and check out the webpage link you saved from your Dolphin.
Step 4:
Laugh in peace.
With our Box for Dolphin, we've made saving links to the cloud easier than ever. All you need is an Dolphin Browser on your Android phone and a free Box account and you're able to save anything from Dolphin to the cloud with one simple click. Dolphin and the cloud have never been connected like this!
As always, we love your feedback and want to make sure that we are creating the best products for you, so don't hesitate to contact us at support@dolphin-browser.com.
Thanks!
The Dolphin Team