Creative Ideas for Your Valentine's Day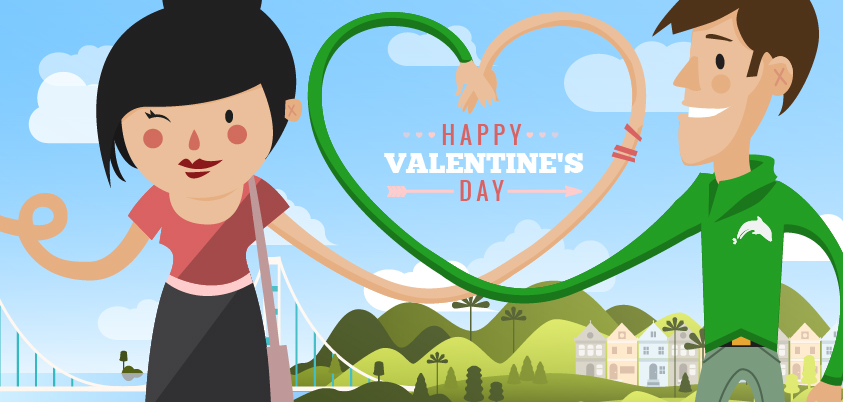 Valentine's Day is in two weeks, and we at Dolphin collected some of our favorite ideas from around the web to help you and your loved one celebrate. Here's hoping you have a creative, fun, and romantic Valentine's Day!
1. Sometimes, it's the messages that come with the gifts that make them most memorable. Come up with some fun or cute messages to brighten your valentine's day. For example, you can give your valentine eleven red roses and one white rose. Attach a note that reads: "You're different from the rest, and that's why I love you." Or, give her a watch with a message that reads: "I'll always make time for you."
Find deals on flowers and gifts to go with your clever Valentine's message.
2. Let him pick something out for you. Attach a $100 bill or a gift card to a lingerie catalog, along with a note saying, "You choose."
3. Fill three envelops with 'tickets' for gifts that your valentine can redeem at different addresses (written on each ticket). Choose places close by and easy to find, then surprise your partner with great gifts.
For some quick gift ideas, try jewelry or chocolate.
4. Dig into the early days of your relationship to find a moment that is special but may not be top of mind. Celebrate the event in a special way and relive the loving memory.
You can also personalize a gift to add to the occasion.
5. Celebrate your love without breaking the bank. Visit a local thrift, vintage, or dollar store. Set a low budget and a time limit. Go your separate ways to hunt for a gift and regroup once time is up. Explain why you bought what you did and the significance or relevance it has to your valentine.
Feel free to sweeten the gift with an additional photo gift or something more unique.
6. Create your own puzzle to express your love. Print out a picture of a place or event that is significant or write a love letter on a piece of paper. Glue it to thin cardboard, cut it up into puzzle-shaped pieces, and then wrap it as a gift.
Make your love letter even nicer looking with custom prints.
7. Give a certificate or trophy to your significant other. Get the prizes engraved, lettered, or monogrammed. Have fun with making the trophy, and make sure you highlight how important your valentine is to you!
Here are some ideas for trophies to get you started.
8. Send an invitation to your partners' office with a date, time, and place. Make the setting romantic with candlelight. If you want to make it fun, turn it into a scavenger hunt-type game with clues.
Liven up the setting with some romantic decorations.
9. Take a vacation…in your backyard! Transform your backyard or patio into a romantic camping space. Set up a tent with some blankets, pillows, and music, and watch the stars or sunrise together.
Find some couple pillows to make the tent complete.
10. Camping in the backyard could be fun, but you could also go on an actual vacation. Pick up your partner right after work with luggage already packed and everything already booked.
Find deals on fantastic trips and start planning.
11. Of course, you shouldn't only celebrate your loved one during Valentine's Day. Surprise him or her on a random day with a movie tickets, flowers, or a romantic dinner. Show your partner you're thinking of them all the time, and not just on Valentine's.
Find deals on dinners and spas for your valentine.
12. If you don't have time to prepare anything fancy, you can still get some great last-minute gifts.
Finally, remember that even if you're single, that doesn't mean you can't still celebrate Valentine's Day! Take this as an opportunity to treat yourself: go to that spa you've wanted to try out; relax with some movies, books, or music; cook yourself a gourmet meal. Or, spend some time with your close friends, maybe even throwing a fun 'singles party' with creative games to play.
Valentine's Day is what you make of it, so make it a good one!