Coming Soon To Your Dolphin: Dolphin Translate Helps You Read in 58 Languages
Have you ever come across a web page in foreign language and didn't understand a single word?
Well, here's the solution — Dolphin translate Add-on takes care of that for you. It supports 58 languages so there is a pretty good chance that the languages you speak would be supported. It uses Google translate to do the job of language translation.
Here's some screenshots on what the user interface looks like:
STEP 1  – While on Dolphin browser swipe left, click on jigsaw puzzle piece and select Dolphin Translate Add-on
STEP TWO – Instructions and details to agree to and proceed to website of your choice.
STEP THREE – To translate, swipe towards left and select language of translation "To"
(the dropdown menu will show a list of 58 other languages)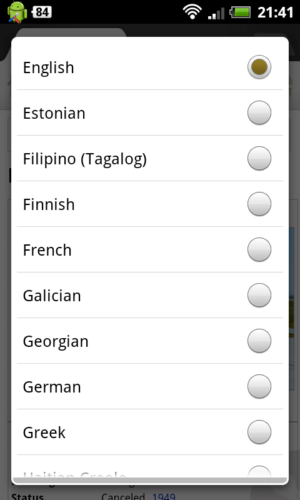 As a native speaker of  Malaysian (Malay), I decided to put the Add-on to the test. I tested translation from Malay to English. The translation was from Wikipedia featuring the McDonnell XF-85 Goblin fighter aircraft from World War 2. The translation of this whole page literally took two seconds — no really, it took two actual seconds and not just a matter of speech.
Accuracy of translation: Great! Translated directly to English the highlighted areas in bold reads:
Peranan = Role
Asal-usul kebangsaan = National Origin
Pengeluar = Make
Penerbangan Pertama =First Flight
Status = Status
Nombor dibina = Number built
Kos program = Program cost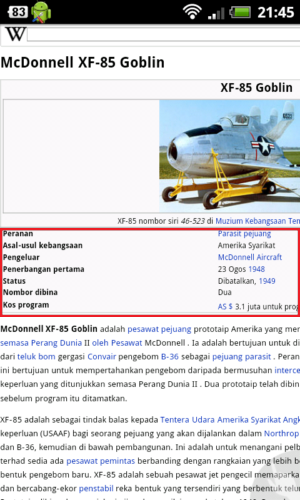 List of languages supported:
Afrikaans
Albanian
Arabic
Armenian
Azerbaijani
Basque
Belarusian
Bulgarian
Catalan
Chinese (simplified)
Chinese (traditional)
Croatian
Czech
Danish
Dutch
English
Estonian
Filipino (Tagalog)
Finnish
French
Galician
Georgian
German
Greek
Haitian Creole
Hebrew
Hindi
Hungarian
Icelandic
Indonesian
Irish (Gaelic)
Italian
Japanese
Korean
Latvian
Lithuanian
Macedonian
Malay
Maltese
Norwegian
Persian
Polish
Portuguese
Romanian
Russian
Serbian
Slovak
Slovenian
Spanish
Swahili
Swedish
Thai
Turkish
Ukranian
Urdu
Vietnamese
Welsh
Yiddish