Building the Best Browser for iOS 9: Now with Improved Stability and Performance
Dolphin Browser is the Best Browser for iOS 9, but what makes it so?
Fundamentally, the answer is good stability and performance. Stability refers to how many failures occur in an app, such as stopping unexpectedly or freezing. The fewer failures, the more stable the app. Performance, on the other hand, refers to how long it takes to execute tasks, such as the speed of loading, refreshing, or launching. The shorter time it takes for a task to complete, the better the app performance.
For Dolphin Browser, we've focused on stability and performance since they feed into each other. The faster tasks are being performed, the smoother the browsing experience and the less likely errors will pop up. With good stability, the less resources are being needlessly drained and the better the performance.  
Stability is a top priority for Dolphin, and we've taken steps to continually improve our browser. In the past few months, we fixed numerous crash issues on the iOS version of our browser to make it as stable as possible for Apple store fans.
There are a few examples of how we approach our goal of building the best browser. For iOS 9, we pinpointed where Dolphin Browser would crash: specifically we noticed crashes when someone input something into the address bar. At first, we thought either AdBlock or something with advertisements was causing the issue. However, after extensive testing, we found that the issue only occurred on iOS 9 devices through a third-party input method (such as SwiftKey). This made the operation of the UI in Dolphin change to a 'child thread' instead of a 'main thread'.
As a result of our methodical testing, we reverted Dolphin back to the main thread to fix this bug. As illustrated in the screenshot below, our crash-free rate is now 98.7%, which means we've reduced our crash rate to 1.3%.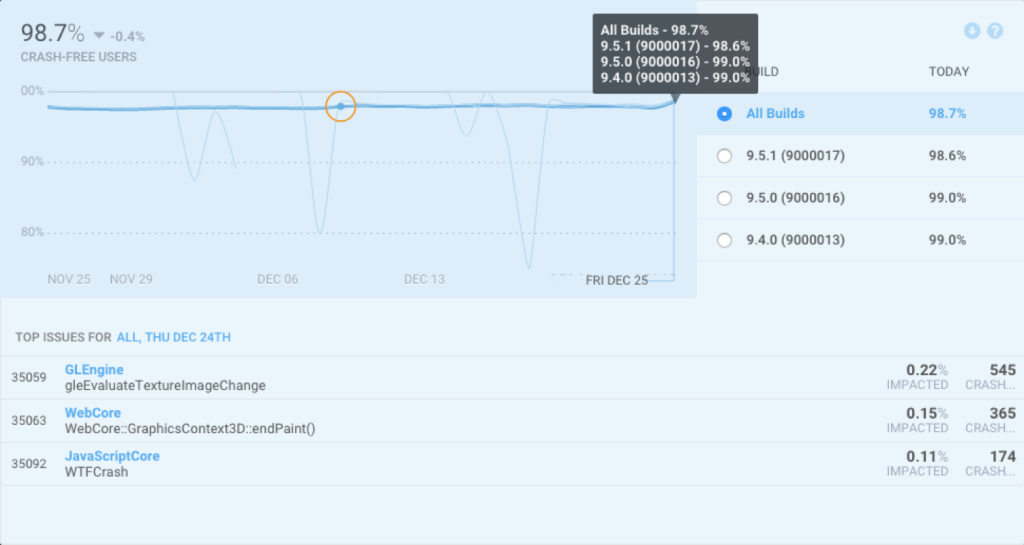 While this crash-free rate is better than many other browsers, we at Dolphin strive to make our browser the best it can possibly be. We'll continue testing and answering inquiries to make sure that we keep improving both the stability and performance of our browser.
If you ever encounter any issues, please email us at support@dolphin.com or contact us via social media, and we'll work tirelessly to resolve the issues and make Dolphin better than ever.
If you're new to Dolphin, download Dolphin today on iPhone or iPad today and experience a better iOS browser. Happy browsing!