Browse the Future: Dolphin Evolves to v10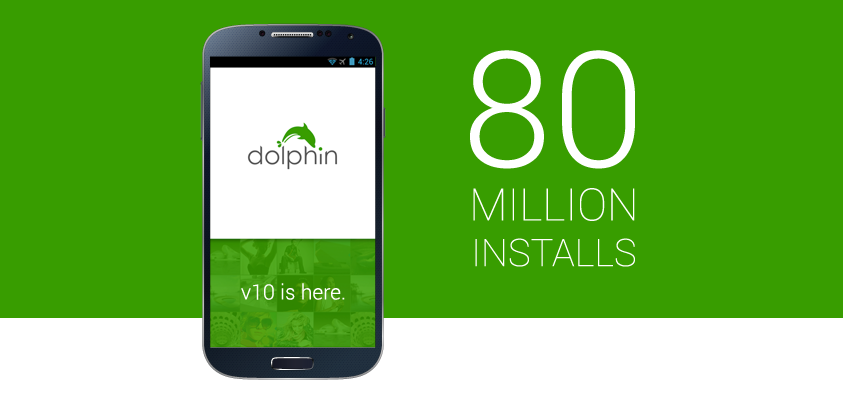 Today is yet another monumental day for Dolphin. In celebration of reaching an incredible 80 million installs, we are launching our most intuitive Dolphin yet. Meet Dolphin for Android v10.

Dolphin is my browser
Team Dolphin set out in 2010 to create a better mobile browsing experience for everyone. Today we're launching a browser made just for you. A browser for students, for grandparents, for business professionals, for artists… for everyone. With a customizable home screen, a beautifully intuitive UI design, and rare features like vertical search and Flash support, anyone can make Dolphin their very own.

Beautiful, intuitive design
Dolphin v10 unveils an all-new design that brings simplicity to browsing. Not only is the look simplified, but so are the browser functions. Dolphin has streamlined access to the most important elements of the browser, offering single swipe access to the browser menu, tab list or the Gesture and Sonar features.

Customizable: no two home screens are alike
Make Dolphin yours by adding your favorite sites and web apps to the redesigned home screen. The all-new Dolphin web app store offers access to the most popular web apps, making the browser a one-stop shop that you never have to leave.  Choose from over 200 web apps, including Facebook, Twitter, Wikipedia, Amazon and more. Adding applications to your Dolphin home screen is easy and once added, they can be quickly organized for one touch access. Drag and drop sites and web apps into folders, just as if you're organizing apps on your device home screen.

Search faster, smarter
Find what you're searching for faster. Type your query into the URL bar, & choose to search directly within Amazon, Twitter, Wikipedia, YouTube, or Facebook. You can also easily choose between 5 search engines: Google, Bing, Yahoo!, DuckDuckGo, & Yandex.

Flash is back
You can once again view Flash content on your favorite Android browser. Simply download the Adobe Flash Player app from the internet onto your device & turn on Flash Support in Dolphin settings. No more switching to the Youtube app to view video content!
Download Dolphin for Android v10 today. Make it yours.

Need help navigating the new Dolphin features? Visit the Dolphin for Android FAQ page.