Bookmarks Widget Updates & One New Dolphin Add-on Arrives!
How time flies! It has been a month's time since we had published the last two add-ons in August. During the whole September, we had been dedicated into optimizing the performance of Dolphin. You may be aware that we had released many updates on our Blog, but we will never stop doing this before we can bring you the best dolphin. Let's back to the point, now it is the first two add-ons in October.
Bookmarks Widget – Quickly load bookmarks without launching Dolphin Browser HD first.
Provide 2*2 & 2*3 widget for you to choose; enhance your browsing experience
Add bookmarks flipping, order adjusting that make Bookmarks widget more convenient.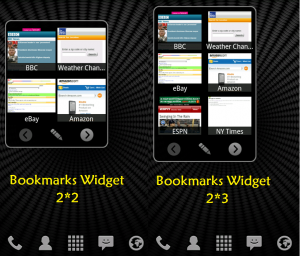 Near Me – Never get lost again.
Simple and quick finding the places nearby.

Furthermore, I believe many of you know the Lasspass for Dolphin is available in Android Market now. Hope you can enjoy all these add-ons. We are starting to attempt to cooperate with 3rd party developers. But we do not open APIs for 3rd parties now. If you are interested in developing add-ons for Dolphin, you can email to us.