Become a holiday shopping ninja with Dolphin Browser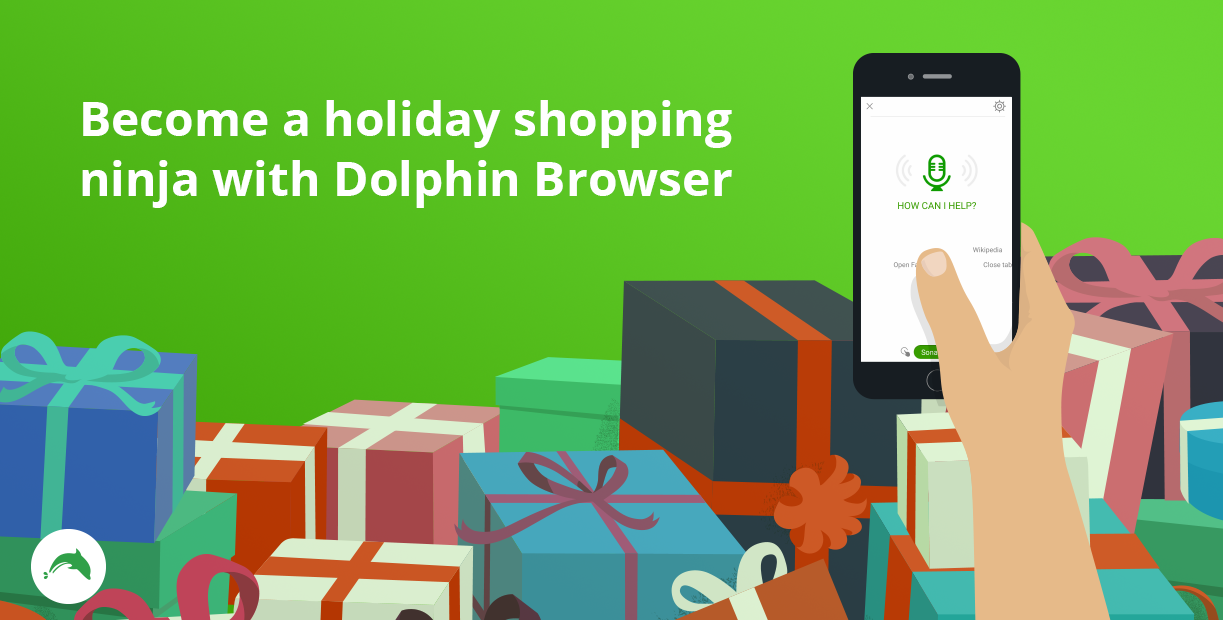 The holidays are quickly approaching and your shopping days are numbered. But don't break a sweat. Dolphin Browser has you covered! Use these Dolphin features to become an online holiday shopping ninja and get your gifts in time.
Fill in your speed dial with useful web apps
Customize your Dolphin Browser home screen speed dial with web apps that can help get you to your favorite shopping sites. Amazon, eBay, and Groupon are musts for your online shopping spree.
Pro Tip: Shopping is now even easier for Samsung Galaxy users thanks to our new Amazon add-on. You can use it to compare prices from any shopping site to Amazon and save a little cash. Just make sure you have the latest version of Dolphin Browser (11.5.16) and are using an Android 5.0+ OS!
Tabbed browsing
Finding the perfect gift for friends, family and significant others involves opening countless tabs from wishlists and gift guides. Fortunately, Dolphin's tabbed browsing allows you to easily hop from one site to the next.
Bookmarks in the sidebar
If you're finding lots of good present ideas and want to store them in one place, try adding them as bookmarks for easy access. All you have to do is swipe right on your Android device to reveal the bookmark bar on the left.
Save to Evernote
Another option for organizing your gift ideas is in Evernote. The add-on Evernote for Dolphin Browser allows you to quickly clip the content from any website and upload directly to your Evernote account. You can then have it as a handy reference of everyone's great present ideas.
Set up gestures for your friends/family's favorite online stores
Make your friend's and family's favorite places to shop accessible at the the swipe of your finger. Set up a gesture linked to the each site for quick browsing.
Ask Sonar your questions and give your thumbs a break
All that online shopping might be making your hands tired. Let Dolphin Sonar do the heavy lifting. All you have to do is ask us what you're looking for and we'll bring it your way – like the golden retriever of the cyber seas.
Did we miss anything? Let us know in the comments how you're using Dolphin Browser to make holiday shopping easier than ever.